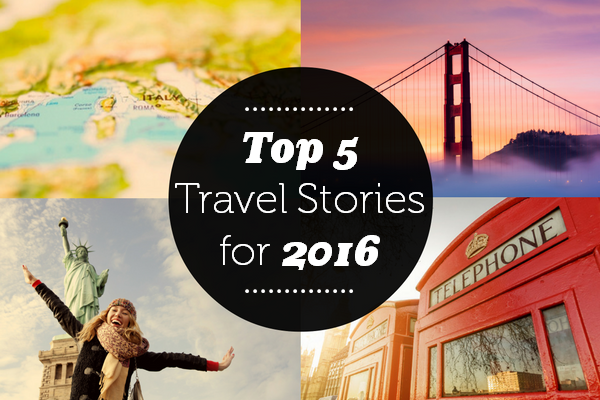 Our #JobPrep series, offering practical advice and tips on how to land that job in the travel industry after you complete your travel courses, has been hugely popular with you all over the past few weeks.
From free resume templates to grooming tips and beyond, we've had such a great response (and enjoyed sharing) that we plan to keep bringing you the latest via our blog next year.
In fact, from inspirational travel tales to student success stories and handy advice, Travel Academy's blog appears to have resonated with a lot of you this year.
With a bright and eager 2017 waiting just around the corner, let's take a look back at our most popular travel stories of 2016…

5. Why Moving Overseas is the Best Decision You'll Ever Make - we asked Instagram guru and adventurer abroad Ash Fanning to share her travel inspiration and experience of taking the leap and moving overseas. Did her travel advice work?

4. Genius Packing Hacks That Will Change Your Life - are you a folder, scruncher or roller? Nope we're not talking about loo paper, we are arming you with the tools to fit more shopping into that suitcase. Are you doing it right?
---

---

3. Everything You Need to Know About Global Gathering: Flight Centre's Holy Grail Celebration - Imagine a room full of 3,000 people who love travel as much as you do. They're just as excited as you are to be there; you've all slogged it out for an entire year, riding the highs and making it through the lows. This is what awaits you with a career with Flight Centre!

2. A Day in the Life of a Travel Agent - Where better to find out the ins and outs of your new travel career than with someone already working in the industry - and a former Travel Academy student as well? Corey's story is inspirational.

1. 21 Signs You Were Born to Work in Travel - a lot of you must have been looking for a sign or two you were born to work in the exciting travel industry. Maybe it involves starting with a travel or tourism course? We hope you found it in our most popular blog of 2016!
Stop dreaming about a change and make Christmas 2016 the time you take action and start your new adventure with a kick-ass career in the travel industry...
---