#JobPrep 3: Interview fashion and grooming tips you can't live without
by Jolee Wakefield on 21-Nov-2016 06:00:00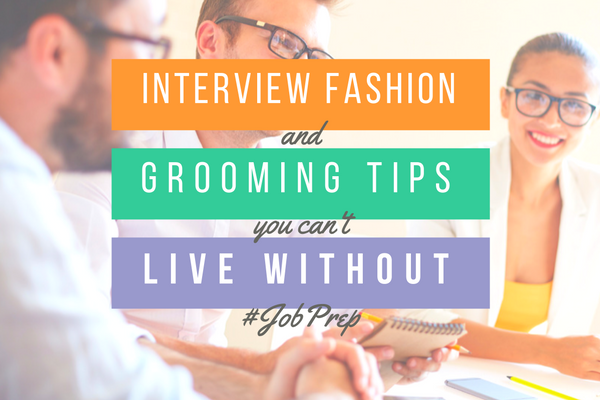 How you present yourself can mean the difference between success and failure at your job interview. It's largely because employers, especially in the travel industry, want to see how you will present yourself in front of their customers. Picture how nicely dressed travel agents are when you visit them to book a holiday - that's how you will be required to present yourself if you get the job.
By now you have probably read the first two instalments of Travel Academy's #JobPrep series - providing you job preparation tips for your resumes and interview questions.
For part 3 #JobPrep, we're back to give you the basic fashion and grooming tips to help you make a good impression at your job interview. While Travel Academy covers job preparation (as well as practical job experience) extensively in our classes, we want to remind you of these tips that will be valuable throughout your entire travel career.
Remember, while not every job and uniform is the same, you want to make a good first impression at the interview stage.
Dress to impress

Regardless of your potential employer's brand style, unless you're told otherwise you should dress to impress at your job interview. No matter what you wear, make sure it's clean, ironed and mended. Remember, it's always better to be over-dressed than under-dressed!
The safest option is a basic dark suit for men and pant or skirt suit for women. Try to pair it with white or subtle coloured button-up and collared shirts, belts and blouses already in your wardrobe to save money. Keep away from bold prints and logos altogether.
If you don't have a suit or money to invest in one, try your luck at an op shop or aim for the most professional attire from your wardrobe. Think a plain collared shirt or blouse paired with plain dark bottoms. Leggings, jeans, miniskirts and skimpy tops - or anything too tight or revealing - are no nos.
Shiny shoes
Thongs, sneakers and your party heels do not make the right impression at a job interview. Opt for closed-toe dress shoes, formal flats or heels that would look at home in a typical business environment. Black or brown are always good colour choices for shoes - but if you go for something else still make sure your feet match the rest of your outfit.
No matter what shoes you choose to wear at your interview they need to be clean - yes, whip out the shoe polish - and smell nice enough the room doesn't develop a foot odour as soon as you enter.

Neat and tidy locks
We all know one of the best ways to look scruffy is to have messy hair. While a haircut would be nice, it's definitely not essential for a job interview.
For men, brush a comb through your hair, use hair products sparingly and make sure your hair is styled in a neat and tidy way. Kick it old school and show them you know how to shave your face and trim that nose hair while you're at it.
For women with long hair, a simple low ponytail, bun or up-do is a great way to look professional at an interview. For short hair, or if you want to wear your hair out at any length, make sure it's clean, neat and tidy - and off your face.
Good personal hygiene
Personal hygiene is important, especially in jobs where you're going to be the face of the company in front of customers.
Before you walk into your interview, use the restroom to take a look at yourself in the mirror. Make sure everything is in order - and a piece of lunch is not hanging from your teeth.
When you're getting ready, whack on some deodorant and, if you want to apply a small amount of your favourite cologne or perfume, go ahead. Just don't over do it!
Also don't forget to clean and floss your teeth. Even have some breath mints on hand, but do not chew gum during your interview. This will not win you any favours.

Nail your make-up and accessories
Make-up can enhance your presentation if done right. Keep it simple, fresh and use neutral colours. Think basic foundation, mascara and a lip gloss, but definitely not bold bright lips and night-time smokey eyeshadows and liners.
Just like your make-up, don't overdo the accessories and jewellery - again keep it simple, professional and make sure it complements the rest of your outfit. E.g. a watch, handbag or messenger bag, belt and a simple necklace or earrings is sufficient.
Your nails need to be clipped and well-maintained or manicured. You don't need nail polish, but if you do opt for subtle colours. Whatever you do, don't walk into a job interview sporting last month's sparkly chipped nail polish or overly chewed cuticles.