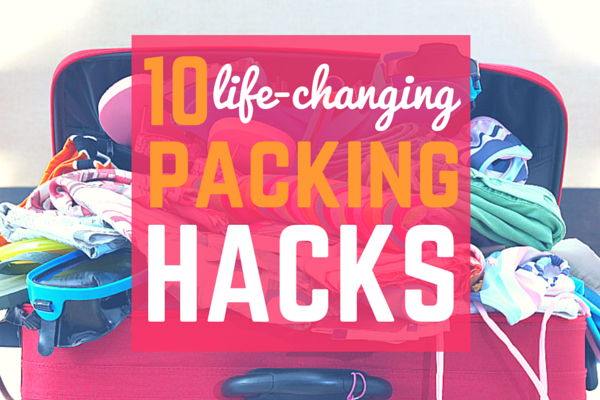 We've all got baggage – some more so than others. If you've ever lived out of a suitcase for a while you'll know the struggle is real when it comes to keeping things in order. No matter how hard you try, every time you unzip it looks like your suitcase has spent the day at Movie World.
The time has come to show your luggage who's boss. Packing doesn't have to be a nightmare. Next time you're ready to jet off, lighten your load with these 10 life-changing travel packing tips.


1. Roll your clothes
Folding your clothes? Rookie mistake. You'll be surprised at how much space you save by rolling your clothes. Bonus: it reduces wrinkles too!


2. Pop your shoes in a shower cap
This is particularly useful at the end of your trip when your shoes have walked a million miles and you've stockpiled all those free hotel shower caps. As far as packing hacks go, this is bigg'un.
3. Cling-wrap to the rescue
Step 1: unscrew toiletry bottle lid. Step 2: place cling-wrap over the open bottle top. Step 3: replace bottle lid. Step 4: enjoy a trip free from major shampoo explosions.


4. Waterproof from the inside
That moment when it's bucketing down at the airport and you see your fabric bag sitting exposed on the trolley outside... Lining the inside of your suitcase with zip-lock bags and anything else water-resistant will keep your clothes safe and dry in the middle.


5. Keep your laundry in check
Pack a delicates bag or dry-cleaning bag (found in most hotels) to separate dirty clothes and avoid doing the 'sniff test' every morning. Dryer sheets from the supermarket are also a great investment. Pop a couple of these bad boys in your luggage and keep your garments smelling fresh as a daisy!


6. Pack a bag in a bag
Planning to do some serious retail therapy on your vay-cay? Pack a small suitcase inside a larger suitcase and hey presto – you have an empty bag to fill with shiny new things! Just remember to double check luggage allowances with your chosen airline and book extra online if needed.


7. Protect your powder
When the time comes to tick makeup off your holiday packing list, put cotton wool balls or pads on top of your pressed powder, blush and eyeshadow to prevent them from breaking during the journey.


8. Weight it out
Pack your heaviest items at the wheels end of your suitcase to make it easier to roll on through the airport.


9. Stuff your shoes
You know what they say about people with big feet, right? They have more space to fill in their suitcase! You can (and should) stuff your shoes with socks, unmentionables and assorted odds and ends.


10. Control your cords
Phone and laptop chargers are usually at the top of your travel checklist, but keeping them in order can be a mission. Use a sunglasses case to store any chargers and cords you're not taking in your carry-on and keep them tangle-free for your arrival.