21 Signs You Were Born to Work in Travel
by Ashton Rigg on 16-Nov-2015 11:42:33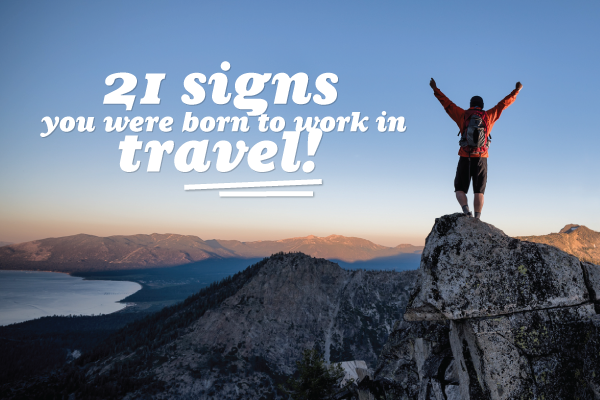 Do you ever get the feeling you're living someone else's life? Like crunching numbers, hanging dresses or pouring drinks is just a placeholder for something better?

If you constantly catch yourself daydreaming about hopping on a plane to nowhere in particular, working overseas or getting paid to travel, you may just be pre-destined for a career in travel and tourism. Just to be sure, here are 21 signs you were born to work in travel...

1. You have a never-ending list of all the places you want to see

2. Your phone is filled with translation apps, holiday countdowns and currency converters

3. You're a Tetris master and know how to maximise every centimetre of suitcase space

4. You love playing tourist, even if it's in your own city
5. You know how to navigate airport security and customs like a pro
6. You prefer to take charge and plan holidays rather than letting someone do it for you

7. You go straight for the travel section when you walk into a bookstore

8. You start planning your next trip while you're still on holiday

9. You have a favourite seat on the plane (and it's always on the wing)

10. Your Instagram feed is flooded with travel inspiration

11. You know how to squeeze the most value out of your frequent flyer points

12. If a friend says they're planning a trip, you have a list of suggestions for them straight away

13. You're forever saving for your next getaway

14. You have a counter of all the countries you've visited... and it's never enough

15. You think seeing the world is more important than buying a house, a car or a cat

16. You know how to avoid 'tourist traps' and find the best spots only the locals would know

17. Your Facebook profile photo is of you on your last overseas adventure

18. You have an up-to-date passport (because, duh)

19. You're not afraid to try new things, like shark diving or sampling weird, wonderful street food

20. You have no problem talking to people you don't know at a party

21. You know following your passion is the secret to a successful career


If you are interested in making your way into the travel industry, download our course guide below!