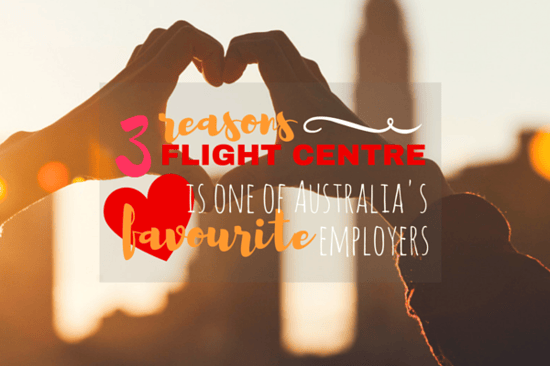 A Top 20 list of Australia's favourite workplaces was released this morning – and the survey says Flight Centre is one of them!
Some 10,000 people were asked where they would most like to work from a choice of 150 Australian companies, with the aviation industry coming out on top.
Jobs at Virgin Australia and Qantas were the most sought after, ranked for their work-life balance, social awareness, career progression opportunities and employee benefits.
The research, conducted by recruitment provider Randstad, also shows 84% of Australians see travelling for their job as a bonus. No wonder everyone wants to work at Qantas, Virgin and Flight Centre!
We may be biased, but here are three reasons we think Flight Centre is one of the best companies to work for in Australia.


1. We work hard, we play hard
You've probably heard rumours (or seen video evidence) of Flight Centre's annual office slip'n'slide. No doubt you've been told about the glory that is Global Ball, where past guest speakers and performers have included Gwenyth Paltrow and Jessie J.
You might even know someone who's already working for Flight Centre and has one night a month blocked out for Buzz Nights.
This 'work hard play hard' philosophy is one of Flight Centre's core values. Who doesn't want to be part of a company that celebrates and rewards its staff on the reg? It's perks like this that make jobs at Flight Centre so darn desirable.
2. There's a world of opportunities
If you're dreaming of a career where you get paid to travel, becoming a Flight Centre travel consultant is pretty much as close as you can get!
Consultants know because they go; they're given ample opportunity to head off on famils (familiarisations) to get better acquainted with the travel products they're selling.
Of course, you might not see yourself in a customer-facing role. Maybe you love the idea of behind-the-scenes work in the ticketing centre, or sourcing land or air products for a wholesale wing.
If you stick around for a while, you might even have the chance to apply for a role at an overseas office!
Flight Centre's global head office is based in sunny Brisbane, but there are international offices in 11 countries including the United Kingdom, United States, Canada, Hong Kong and New Zealand.


3. You can climb the corporate ladder
When you work at Flight Centre, you'll no doubt hear the term 'brightness of future' bandied about.
In a nutshell, BOF means everyone has the opportunity to pave their own way to success with internal learning and development, like the courses offered by our good friends over at FC Business School (hey guys!).
You might start out as a novice consultant and work your way up to the Team Leader of a store, or make the move into head office to expand your skills in customer service, marketing, HR, product or wherever your passion lies.
Flight Centre Travel Group is made up of more than 30 brands, including Escape Travel, Student Flights, Cruiseabout, 99 Bikes, My Adventure Store and many more, so once you're in the 'Flightie' family you have endless career opportunities in Flight Centre and beyond!
Read the full list of Australia's 'most attractive' employers here.