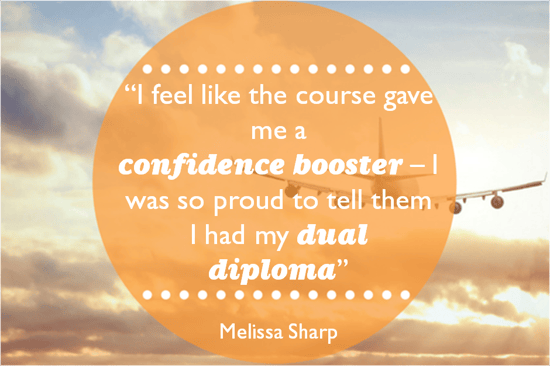 Have you ever started something and straight away realised it just wasn't for you? Imagine the feeling when you put your heart and soul into a career and it just doesn't pay off. Luckily for Travel Academy graduate Melissa, this isn't one of those stories!


While studying with us, Melissa quickly realised working as a travel consultant was not going to suit her personality. She ended up finding her niche working for Virgin Australia... but we won't spoil the rest for you!


We caught up with Melissa to see how working in the travel industry is going and how her qualifications helped her land a job she loves.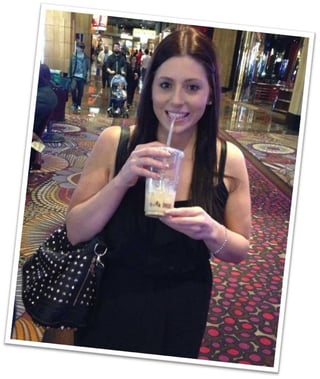 Why did you decide to study travel and business?
I originally started the course because I always had a passion for travel and the thought of being a travel agent was exciting.


When I started the course, I initially wanted to become a consultant, but when I graduated I knew I was more interested in tourism jobs in hotels or airports.


The Business Program completely changed my mind – but in a good way! The course doesn't sugar-coat the reality of working in the travel industry.


There would be nothing worse than starting a job and finding it wasn't really the right fit for you after all. I could tell working as a travel consultant just wouldn't be for me.


What were some of the highlights and challenges during your course?
As far as highlights go, I really felt like I had found my calling. It took me a long time to figure out what I wanted to do with my life and when I started the course, I knew working in travel was for me.


I was excited to go to class and I met so many awesome people – I still keep in contact with two of the girls from my class – and my trainer Davina was the best! She was so funny and supportive.


Another highlight for me was graduating. I was so proud of myself and the course was a blast! The challenges definitely included oral presentations (not a fan) and pushing myself at home to complete my work; it was so much easier in the classroom.

What is your current role in the travel industry?
I'm now working for Virgin Australia, which I love! I work in Guest Services as a check-in agent; I'm in international check-in, so I get to see all sorts of different passports and meet all kinds of people every day.


Do you think the Travel Academy gave you the skills and experience you needed to land this job?
It definitely did. I never would have applied for this job – or probably gotten in – without the travel qualifications I now have.

I feel like the course gave me a confidence booster too; I was so proud to tell them I had my dual diploma in travel and tourism/event management!


What advice would you give to people thinking about studying travel?
If you even have the slightest interest in travel I would recommend studying travel and business at the Travel Academy! It opens up so many doors and there's so much you can do after you finish.


I'm not going to lie – it is tough, but it's worth it. When I was younger I would always start projects and never finish them, but I'm so proud of myself for graduating. It's the best feeling.


So go for it! Even if you decide on another career path, this course still gives you so many skills you can take with you.


What is one thing about working in tourism that has surprised you?
In my job as a Virgin Australia check-in agent, probably the super early mornings! As the airport is open 24/7, the earliest I start is 3.30am.


What's next for you? Do you have any career goals in mind?
I'm very happy working for Virgin Australia. This is just the beginning and I'm so thankful to be in the position I'm in.

I'm working towards going fulltime (I'm only part time at the moment) and would actually love to move Queensland and possibly work at the Gold Coast Airport.

As for climbing the career ladder, I'm always open to more training and moving up in the company!