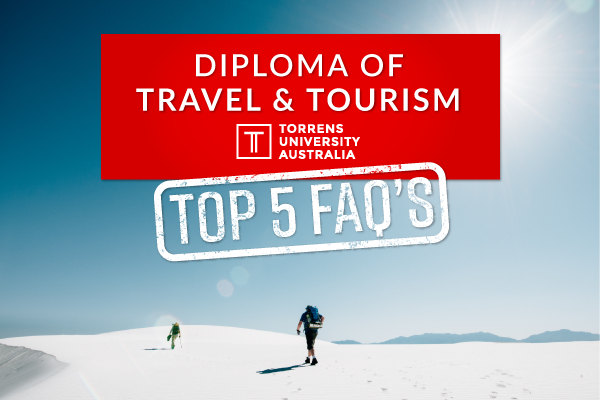 We are excited to introduce the brand new Diploma of Travel and Tourism Course we are now delivering with our partner, Torrens University Australia.
Chances are, if you have a question - someone else has had the same one! You will find most of the course information on our Diploma Overview, but in case you haven't been able to find what you are looking for, we have put together the Top 5 most commonly asked questions.
1. How much is the Diploma?
The full fee is $19,200 however all FCTA enrolments in 2017 are eligible for a 15% scholarship - making the total fee $16,320 ($8,160 per semester). FEE-HELP is a Government inicitive available to eligible students.
2. How long does the Diploma take to complete?
The course goes for 40 weeks made up of 2 semesters, full-time. To read more about the course structure, view our web page.
3. When can I start?
Unlike most Uni's, we have monthly intakes, so you can start at a time that is convenient for you. You can see a list of these dates on our web page.
---

---
4. Will Flight Centre Travel Academy help me get a job after I complete the course?
The Diploma of Travel and Tourism is suited to a range of different career opportunities and can also be used as a step into further higher education.
Our core role is to help you develop the necessary industry skills and knowledge you need for success. We can not guarantee that everyone is suitable to a Travel Industry role, therefore no placements can be guaranteed.
However, you will have the opportunity to demonstrate your ability throughout your time with us. Based on your performance in class and on assessments, you will potentially gain the opportunity to meet with the Flight Centre Recruitment team or our Industry Partners.
5. Is the course all online or do I have to attend class?
From the 8 subjects in this course, 4 will require both facilitated training, where you attend class and online learning and the other 4 will require online learning with optional study workshops.
The in-class component will be 5 days approximately every 2 months, totaling 20 compulsory in-class days over the entire duration of the Diploma. See our mock course schedule for more information.
Have another question? View our Diploma FAQ page or call one of our consultants on 1300 369 649.
---
Want to know more about our Diploma of Travel & Tourism?