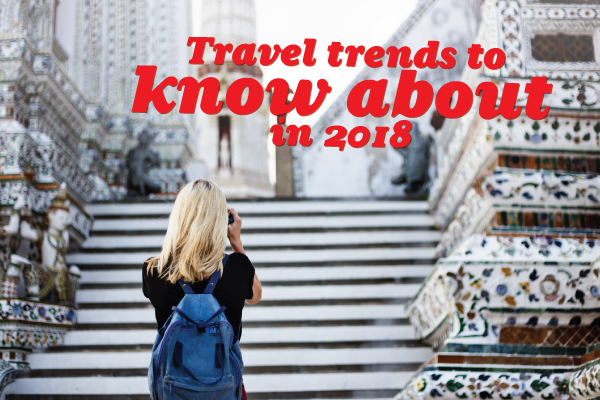 The travel & tourism industry is one of the largest sectors of the global economy, contributing over $7 trillion dollars and continuing to grow as it embraces digital technology to streamline booking processes and the overall travel experience.
Stay in the know with these travel industry facts for 2018!
Destinations
South Korea is expected to see a rise in tourism after hosting the 2018 Winter Olympics in February. Similarly, the Commonwealth Games has put Queensland's Gold Coast on the map for both international and interstate visitors.
The city of New Orleans in Louisiana, USA, will be celebrating its 300th anniversary in 2018, making it the ideal time to visit!
This year Moscow will be celebrating 100 years as Russia's capital, with special sightseeing tours dedicated to the revolution.
Valletta, Malta is being celebrated as the European Capital of Culture in 2018, with over 400 events taking place throughout the year.
Qantas has begun its 17-hour direct service from Perth to London, meaning East Coast travellers can hop over to the west en route to their 2018 European holiday.
New Zealand, Indonesia and the United States continue to top the list of international destinations visited by Australian travellers.
Travellers & Booking Trends
In 2018 booking trends are gearing more towards cultural immersion experiences than big attractions, as travellers seek a more meaningful and rewarding trip.
Two thirds of travellers begin researching their trip between 1 and 3 months before their intended departure date.
Millennials are most likely to book online but will still use travel agency services when an upcoming trip is more expensive.
97% of millennials say they share pictures on social media while travelling.
56% of the national population are Australian passport holders, and 9.9 million Australians travelled overseas in 2016.
20% of global travellers have visited a destination after seeing it on a TV show, and 52% of Facebook users reported that a friend's travel photos have inspired their own travel plans.
Over 80% of tours & activities are booked directly online, with almost 50% of those direct bookings being made on a mobile device.
51% of travellers expect to communicate with travel brands via messaging or text.
Mobile travel bookings are expected to exceed 45% of online sales in 2018, with apps soon to be the preferred method of booking.
Even with the growth of mobile bookings, 70% of Australians are still booking at least one part of their trip through a travel agent.
Do you love learning about the travel industry and find the insights fascinating? If travel is your passion, why not make it your career? Learn how to become a Travel Agent with leaders in the industry - check out the Diploma of Travel & Tourism!