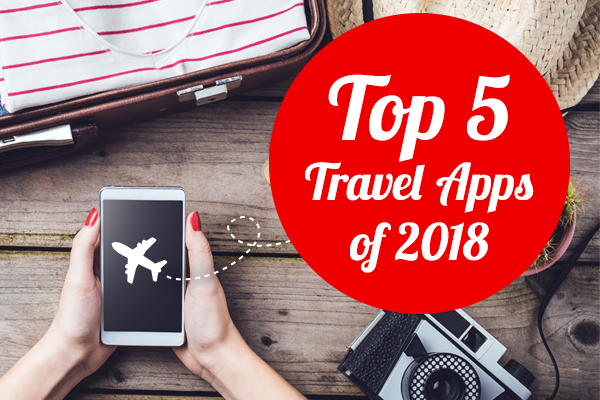 Discovering new places is a great adventure but planning a trip away from the comforts of home can be stressful. Turn your smartphone into the ultimate travel BFF with our picks for the top 5 travel apps of 2018.
Google Translate
Say goodbye to misunderstandings and awkward sign language with the power of the Google Translate app! Effortlessly translate 103 languages by typing the text into your phone, with 59 of those available for translation offline without an internet connection. It even has an instant camera translation feature, which can translate 38 languages with a simple point of your phone camera… particularly helpful for foreign language menus, which can often harbor interesting surprises. Languages barriers be gone!
Platforms: iOS and Android
PackPoint
Ever had the feeling that you've forgotten something? PackPoint takes the stress out of packing by compiling a customised list for your trip. Simply input where and when you're going, and what you plan to do there, and PackPoint will check the weather and generate a packing list that can be shared with fellow travellers. PackPoint helps manage one of the "chores" of travelling, so you can focus on planning the more important (and fun!) aspects of your trip.
Platforms: iOS and Android
WiFi Map
Going without WiFi can sometimes feel like losing a limb, but never fear... the WiFi Map app is here! Scratch that Instagram itch and avoid costly data roaming charges by tapping into one of 100 Million free public WiFi spots highlighted on the app. Maps can also be downloaded for later use offline. The app is free however does have a premium version offering access to a larger database of WiFi locations.
Platforms: iOS and Android
SitOrSquat
When you've gotta go, you've gotta go, and away from home a clean restroom can be hard to find. The SitOrSquat app will help you answer nature's call in comfort by directing you to the public toilet nearest your location. All restrooms are rated "Sit" if it's clean, or "Squat" for the more questionable commodes. Locations can be searched by rating, baby change table facilities, and if they're free to use.
Platforms: iOS and Android
XE Currency
If the thought of recalling your times tables makes your eyes glaze over, then the XE Currency app is an absolute must-have. Convert every world currency with ease on this app, which also works without an internet connection by saving the last updated rates. You can track up to 10 different currencies at once and learn about the different currency profiles, including note and coin denominations, and local nicknames! There's also a handy Money Transfer feature offering great rates to transfer your buckeroos in 60 currencies to over 170 countries.
Platforms: iOS and Android
And not forgetting the most important app of all... Phone. Call your Mum. She misses you.
Do you love learning about the latest trends in travel? If travel is your passion, why not make it your career? Learn how to become a Travel Agent with leaders in the industry! Get started by checking out our Diploma of Travel & Tourism.