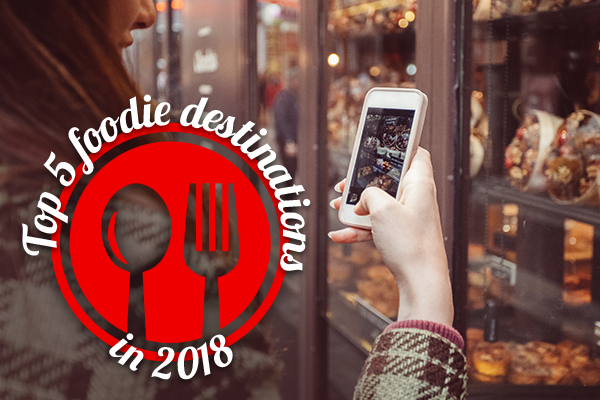 An essential part of any authentic travel experience is sampling the local cuisine, so for the self-professed epicurean, our top 5 foodie destinations in 2018 will have you wishing your belly had room for an extra meal between breakfast and brunch.
Bangkok, Thailand
Street food is the name of the game in Bangkok, with roadside kitchens whipping up fresh omelettes and steaming noodles in almost every neighbourhood. Pull up a plastic chair at a makeshift restaurant and dine with the locals to experience all the flavours and aromas unique to Thai cooking. Night markets are also a popular choice to try Bangkok favourites like Crab Omelette, Tom Yum Noodles and Crispy Pork Belly... and for the fearless foodie, you may even find fried insects on the menu here!
Paris, France
Croissants! Fromage! Eclairs! Ooh la la! Be sure to pack your stretchy pants for a trip to the City of Light, and with so many irresistible culinary delights on offer, it's not hard to understand the love affair with Paris and its incredible food. Start your day with a visit to the local boulangerie for a baguette fresh from the oven, and eat your way across the city, being sure to sample everything from sweet crepes and macarons to rich cheeses and foie gras. Not forgetting the renowned delicacies escargots (snails) and cuisses de grenouille (frogs legs), and classic French dishes such as croque-monsieur and duck confit. Bon appetit!
Osaka, Japan
The Japanese have a word for "ruining oneself by extravagance in food", kuiadore, a concept the city of Osaka is renowned for. The bustling district of Dotonbori is Osaka's foodie mecca, home to market stalls, cheap eats and Michelin-starred restaurants. Japanese cuisine is like no other, with its cooking techniques and elegant presentation refined over centuries. Be sure to try local favourites such as takoyaki (fried octopus balls), okonomiyaki (savoury pancake), kushikatsu (deep-fried meat or vegetables on a stick) and taiko-manju (a baked sweet). To pay compliments to the chef for a delicious meal, say "oishii!"
Florence, Italy
There's just something about Italian food that warms the soul, but for a foodie experience beyond the carb comforts of pizza and pasta, a visit to the Tuscan city of Florence is a must do. Paired with a bottle of fine Chianti, bistecca alla Fiorentina (Florentine steak) tops the list of local specialities, along with Ribollita, a Tuscan vegetable and bean stew thickened with bread. For the more adventurous palate, the Panino con Lampredotto (beef tripe sandwich) is a Florentine tradition for the foodie bucket list, just be sure to leave room for a scoop of gelato artigianale, which means it's made on-site with the freshest ingredients. Bellissimo!
Melbourne, Australia
Closer to home, the Victorian capital holds its own among the top foodie cities in the world, with an impressive list of hatted restaurants (Australia's equivalent of the Michelin-star rating system), bustling food markets and hidden laneways home to a competitive café scene. Generations of immigration means that any world cuisine you fancy can be found in Melbourne, so take a tour via your plate and visit Little Italy in Lygon Street, Little Saigon in Victoria Street and Chinatown in the CBD. For the sweet-tooth foodie, a tram ride to Acland Street, Saint Kilda is a must-do for the tantalising window displays of cakes and pastries!
Trying the regional cuisine when you travel is not only a great way to experience new flavours and dishes, it also helps to support the local economy and build connections between the local people and travellers. And after all, food is the ingredient that binds us together.
Do you love researching new destinations and advising your friends and family where to plan their next holiday? You might be born to work in the travel industry! To learn more about how you can build a career in an exciting industry, check out our Diploma of Travel & Tourism!