The Best Paying Jobs For People Who Love Travel
by Katie Collaro on 24-Sep-2018 10:34:05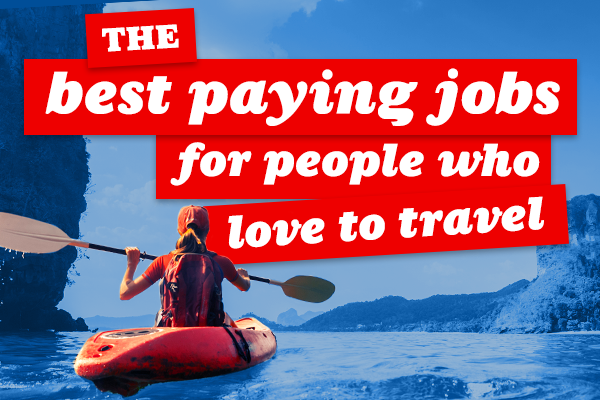 Looking for a way to support your wanderlust, as well as your bank account? You needn't put your career on hold or sacrifice a good income to fulfill your travel dreams. Make the world your office with a high paying job that allows you to travel AND pay the bills.
Here we round up the best paying jobs for travel-seekers.
Travel Agent
Working as a Travel Agent, not only will you get paid making your own travel dreams come true, you will share in the excitement of planning experiences for your clients that they'll remember for a lifetime. As well as receiving discounts for personal and family travel, Travel Agents are often invited on Familiarisation Trips (referred to as "Famils" in the industry), which are free holidays sponsored by airlines, tourism bodies, or other travel providers, for agents to learn about destinations and products, and recommend them to clients. Generous commissions for hard workers can see Travel Agent earning a sizeable pay packet, travel rewards through incentives, and the opportunity for career advancement. Kickstart your career as a Travel Agent and put your best foot forward by studying a Diploma of Travel and Tourism.
Airline Pilot
Sydney one day, London the next? If sitting up the pointy end of the plane sounds like your style, the busy, high-flying life of a commercial airline pilot could be your calling! Making a job of flying people around the world is the ultimate way to combine your love of travel with a lucrative career. Obtaining the necessary qualifications can be an expensive and lengthy commitment, but airline pilots are among the highest paid professionals in the travel industry, and benefit from generous staff discounts on flights for personal travel and can explore different cities during layovers when their schedules allow.
Global Event Manager
If you're highly organised, thrive under the pressure of a looming deadline and love a good spreadsheet, get paid to travel working as an Event Manager, scouting the world for suitable venues to host corporate events and conferences. Event Managers can spend more than half the year on the road, and this is a great high-paying career option for lovers of travel and a busy lifestyle. If you have excellent time management and communication skills and enjoy working with people, make money and international contacts in a job that allows you to see the world outside the four walls your office!
Travel Writer
A simple WiFi connection can turn an unassuming café into the industrious workspace of a successful travel writer, paid to travel the world and write about the food, culture and lifestyle of different countries… what a life! Experienced, in-demand travel writers can spend the majority of their year travelling, all while receiving a generous remuneration to explore different destinations to review hotels, restaurants and events. Although a competitive field, no particular qualifications are usually required, however excellent English language skills are essential and writing and travel experience is advantageous.
With the right training or experience, and a bit of hard work, you can combine a steady, fulfilling career with travel, and turn your dreams into reality.
Is travel your passion? Why not turn it into a lucrative income! Study the Diploma of Travel and Tourism? Our expert trainers will train you on real systems used in the industry and develop your industry knowledge to get you job-ready!