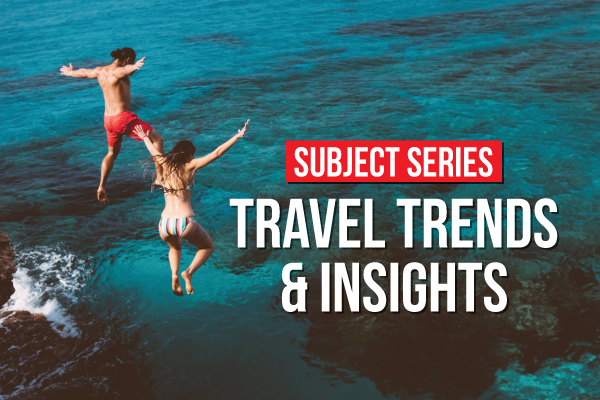 In this series, we take a closer look at some of the subjects covered in the Diploma of Travel and Tourism. We asked our students a few questions about their experience.
Subject Series #1 - Travel Trends and Insights
Travel Trends and Insights is an Introduction to the diverse range of products within the travel and tourism industry and to learn about the latest & future trends of Australian travellers.
What is the most interesting thing you have learnt from this subject?
Angelique: The way different industries within travel are all interconnecting.
Shinnae: The top destinations, cruises and tours. Also, how BIG Flight Centre is and how many different roles there are!
Bianca: Learning about different airlines, cruises, coach tours - all the different ways to travel.
Katie: There are so many different services that travel agents offer - it's not all just booking flights. Also, I learnt about so many surprising travel trends!
El: There are so many learning outcomes as well as friendships, confidence AND knowledge that I've experienced over the 5 days in-class.
What did you love about this subject?
El: The facilitator! Also, the relaxed atmosphere and the variety of fun forms of learning.
Katie: The destinations covered and what makes them popular to travellers. The up and coming trends for travellers that I will need to know as a Travel Agent.
Stevie: I am really enjoying learning about the different elements within the industry and how they interrelate. Also how culture and current trends impact the way we travel and the choices we make.
Bianca: Meeting awesome people and gaining so much knowledge about the trends of travel.
Angelique: The relationship between students and facilitator. It's a stress-free zone which makes it so much easier to learn and communicate with one another.
Bek: All the insights gathered around accommodation, transport and group tours.
Why do you think this subject will benefit you when working in a Travel role?
El: We have been put in real-life travel agent scenarios and learnt so much geographical knowledge.
Katie: The facilitator gives great tips, tricks and advice from experience working in different roles within the industry - Travel Agent, Wholesaler, Hotel Management. In every content chapter, you are guaranteed to encounter information that will help you prepare for the Industry!
Bianca: I am now able to help customers customize their holidays and to explain different types and styles of travel.
Angelique: Why not go straight to the source? Flight Centre are one of Australia's leading Travel companies.They've put in the legwork to have the wide knowledge they have now.
Is it worth doing a course in travel?
Bek: Yes! It is a great learning experience. You gain knowledge for your future role as well as everyday skills. The facilitators are also fantastic and answer every question you have.
Angelique: Definitely. If you're someone who loves travel - this course gives you so much insight into the industry.
Stevie: Yes! Absolutely.
Katie: YES! I did it to gain more education on all aspects of the Travel Industry. I feel by the end of this course, I will be fully prepared for a job in travel - much more so than trying to learn on the job!
El: Yes, if you're passionate about travel and tourism I would definitely recommend it. This course does not fail to deliver!
Do you love travel and everything that comes with it - from packing to organising the total trip? If so, why not chase your passion! Check out our Diploma of Travel & Tourism or Travel Agent Short Courses that will help you get there!