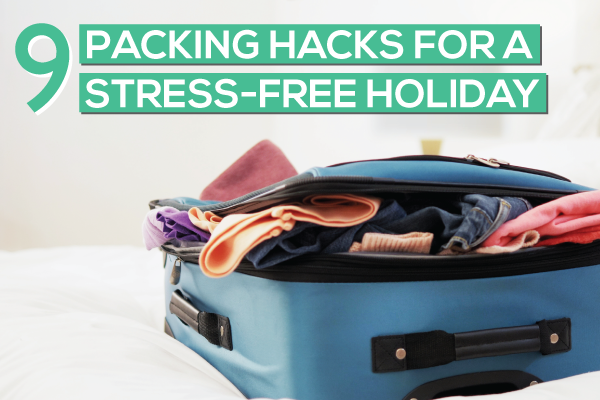 Holidays are relaxing; packing for them isn't. If you are someone that dreads packing and needs all they can get to make the process easy and efficient – then boy do we have some tips for you!

Checklist
This is probably the most important part about being a great packer. If you don't make a list, it is almost guaranteed something is going to be forgotten. The longer the trip, the more essential this is! A week out from your trip, open a new note on your phone and start a packing list. Over the next week, you will find yourself adding more and more to the list as you remember the little nitty gritty items (like a photocopy of your passport) until it's time to pack!
Plan your outfits
It is easy to leave packing to the last minute and just throwing in 7 shirts, 7 pairs of shorts and assume you will be sorted for your 7 day Bali escape. However, there is nothing worse than arriving and realising that most of them don't really match and you forgot to bring anything for the nice dinner you had booked! To combat this, before throwing everything straight into your suitcase, lay out your clothes on your bed and make sure your 7 shirts and shorts actually equates to 7 outfits you would wear! Otherwise, you can always just buy a whole new wardrobe when you get there!
Cut it by half
If you are an over-packer, which most of us probably are, then make sure you are super critical about what you are taking and really consider if you ACTUALLY need 6 extra dresses and your leather boots for a 5 night getaway to the Whitsundays. If you are guilty of packing way more than you need then look at what you are packing and then cut it by half!
Roll your clothes
A frequent traveller's best advice – roll, don't fold. Less wrinkles, more room.
Pack a bag in a bag
Planning to shop big on your holiday and know you are going to need that extra bag? To save you from buying a whole new suitcase when you are there, just pack your smaller suitcase in your big one and pack your clothes in the smaller suitcase and in the space around it – ta-da!
Heaviest items near the wheels
Make sure you pack your heaviest items near the wheels of your suitcase. This will help distribute the weight to the bottom when you are wheeling it around the airport and may save you some embarrassing stumbles!
Check your tech
Firstly, make sure your tech (laptop, iPad or camera) is safely packed in with soft material around it. Second – get a zip lock bag for your charger cords. There is nothing more annoying than having to rummage around all your clothes to find that one little camera charger.
Breakables in socks
Worried about your glass-bottled perfumes breaking during the rough journey? Pack them inside a sock!
Protect your liquids
There are only a handful of things more frustrating than opening your perfectly packed bag to find that your shampoo bottle has exploded over half of neatly rolled up clothes #dread. To save yourself a Laundromat trip on your holiday, put any liquids in a zip-lock bag or cling wrap the lids.
Do you love travel and everything that comes with it - from packing to organising the total trip? If so, why not chase your passion! Check out our Diploma of Travel & Tourism or Travel Agent Short Courses that will help you get there!