Jobs That Allow You To Travel The World
by Katie Collaro on 03-Sep-2018 06:13:00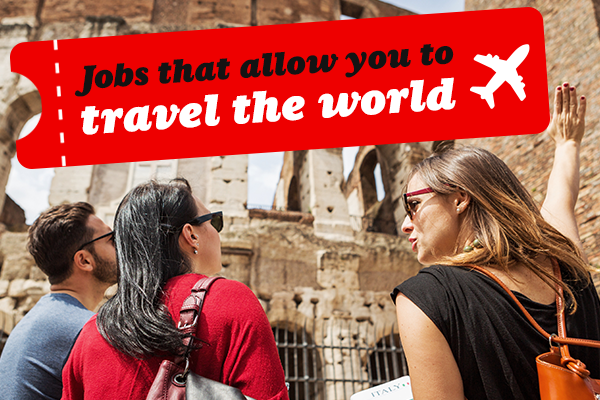 When you have itchy feet and big dreams, you know that a meagre four weeks leave a year just won't cut it. Getting paid to travel may sound like a fantasy, but is within your reach, and to help we've rounded up the best jobs that allow you to turn your dreams into reality and see the world!
Flight Attendant
Get paid to fly high! For travel lovers who thrive on a hectic schedule, the fast-paced life of a Flight Attendant is an obvious choice. If you enjoy working with people and have great customer service skills, you could be jet setting around the globe as a professional frequent flyer. Travel the world with a glimpse of many different destinations and the opportunity to explore cities during layovers, in addition to scoring generous discounts for personal travel through the airline!
Tour Leader
If you're friendly, outgoing and have the gift of the gab, then combining your storytelling skills and love of travel to become a Tour Leader is a great way to get paid to see the world. Not only will you meet plenty of interesting people, you'll share in their excitement as they fulfil their dreams of seeing iconic places for the first time. You may need to learn to operate on little sleep, but if you're the life of the party and have great organisational skills, then you may have what it takes to become a professional wanderer!
Travel Agent
As well as enjoying generous travel discounts, Travel Agents benefit from being ahead of the curve when it comes to industry news and trends, being the first to know about new hotels and resorts, and other travel supplier offerings. Travel Agents are often invited on Familiarisation Trips (or "Famils"), which are trips sponsored by airlines, tourism bodies, accommodation providers, tour operators or cruise lines, so that agents can become familiar with their products and recommend them to clients. Begin your journey towards becoming a Travel Agent by studying a Diploma of Travel and Tourism and get paid to do something you love!
Cruise Ship Crew
If the ocean is your potion, then get a daily dose of vitamin sea working aboard a luxury cruise ship. Cruise lines offer a multitude of employment opportunities ranging from cooks and cleaners, to dancers and musicians, to photographers and hairdressers. Find your sea legs and travel the oceans of the world on a floating resort, all while being paid to sail... plus the added perk of free food and accommodation!
Seeking out a job you love that allows you to travel as part of your duties is the perfect way to get paid as you see the world, and it's entirely possible... so start taking the steps towards building the dream life you've always wanted… and don't need a vacation from.
Do you want a job that allows you to travel the world? Well, we can help you get there! Study the Diploma of Travel and Tourism and our expert trainers will train you on real systems used in the industry and develop your industry knowledge to get you job-ready!