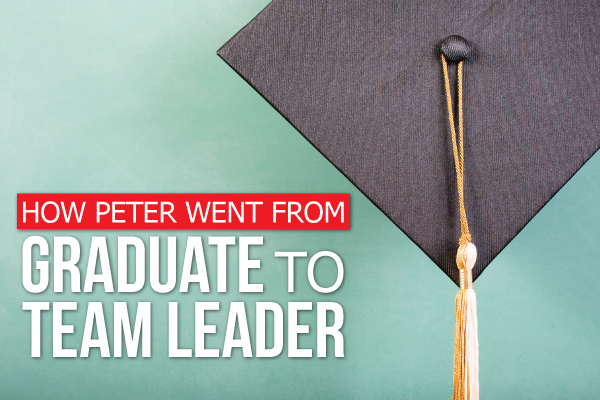 Peter is a recent graduate of Flight Centre Travel Academy and since leaving, he has built a successful career in travel! Peter attributes his success to hard work during his Diploma, being able to show amazing results and make an impression!
Q1: What made you want to study for a career in the travel industry?
I love travel and I love interaction with people. What better way to combine the two and help people experience the world? I saw the Travel Academy as an entry point into Flight Centre and 3 years later, I'm a Team Leader at a flagship Flight Centre store in Brisbane.
Q2: Why did you choose the Travel Academy?
I had a mate who worked for Flight Centre and then worked for Travel Academy. I had a chat to him and it seemed the logical answer to study with the company I wanted to work for, to see if I could open some doors.
Q3: Was the course what you expected?
I came into the course purely to learn about the travel industry. I had no expectations whatsoever! I can say I met some amazing trainers and friends in the course, of which I am still friends with today.
Q4: How did you find out about your current position and how did you find the interview process?
I moved from Bundaberg to the Queen St Mall Hyper store 10 months after I started with Flight Centre. There is always change within Flight Centre, which saw a position open up within the Hyper store. I first became Future Team Leader before applying for the role of Team Leader when the previous Team Leader moved on. I had pretty well assumed the role of Team Leader before it came time for the interview – so felt very comfortable. During the interview, I sat down with the Area Leader and spoke about my vision for the team and what we wanted to do - now here I am!
Q5: In your opinion, do you think you have been set up for greater success and at advantage to others from completing a qualification with Travel Academy?
Yes, I think the Travel Academy gives you a great insight into how amazing Flight Centre is as a company. I have made connections and relationships with people from my training and I think that has made a difference. The Academy delivers a generic tourism course, but with a Flight Centre twist purely from the trainers. It's the people that make the business/company and this is evident with them. Excel with your studies, make an impression and things will happen for you.
Q6: Do you think it's worth doing a course before you go for a job in the Travel industry?
Most definitely. It really does give you an insight into what's involved. A lot of people think the travel industry is all fun and free trips. Yes its fun, and yes you might get some free trips, but it's also hard work and takes dedication. I think this course gives you enough of an overview to let you know whether it is the right thing for you or not. The management modules also help from a leadership perspective and also firsthand knowledge from the trainers as most of them have been consultants previously.
Are you looking to build a career in the travel industry like Peter? Check out our Diploma of Travel & Tourism or Travel Agent Short Courses!