Student Stories: Ashlee Went From Travel Academy to Escape Travel
by Katie Collaro on 09-Oct-2017 08:04:00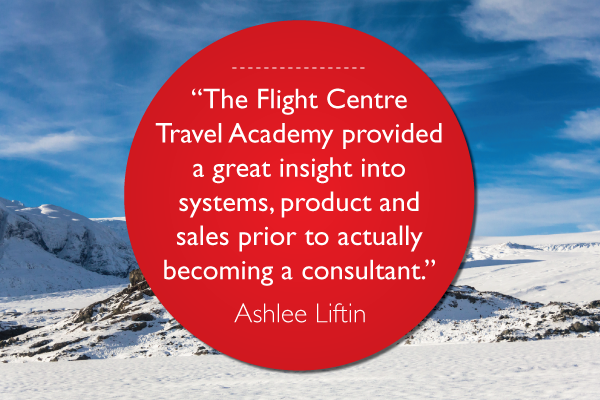 Ashlee is currently working as a Business Travel Consultant at Escape Travel. She started her journey into the industry with Flight Centre Travel Academy 2 years ago and has since grown within the company and set her sights on her next career goal!
1. Why did you choose to study at Flight Centre Travel Academy?
The Flight Centre Travel Academy provided a great insight into systems, product and sales prior to actually becoming a consultant. Instead of just doing the modules, you also complete block training which covers all of these things and gives you a heads up on what to expect before entering the industry.
2. Had you done much travel prior to or after your course?
I traveled to Italy in 2010 for 6 weeks, and Thailand in 2013 for 3 weeks. After my course and starting work, I have been to Bali, Thailand again, Cambodia and Singapore. My husband has also made his first trip overseas, accompanying me to all of these places.
3. What were some of the highlights and challenges during your course?
I really enjoyed the first training block in Brisbane. It was great meeting all of the trainers and getting to know the other people doing the course. I made some great friends.
It was challenging to keep myself motivated to finish the course. I am a procrastinator so I really struggled getting to the finish line, but I am very proud to say that I did push through.
---

---
4. Tell us about your exciting new career...
I have been working at Escape Travel Townsville for 2 years now. I applied about 6 months into my Diploma. We are a franchise of the Flight Centre Travel Group (FCTG) and the people I work with have been amazing. I was in retail my first year, but I decided to change to corporate in September last year. I am really glad I made that change and absolutely love my (not so new) role.
5. What's next for you? What are your career goals?
My dream is to work for UNESCO World Heritage and Sustainable Tourism Program. This is because I studied archaeology at University. My first 2 trips internationally were to attend archaeological field schools. I want to combine my two passions, travel and archaeological conservation, into my dream job. Around the time I was joining Escape Travel, FCTG has asked for input on their new Responsible Travel Charter. This was one of the things that has kept me at FCTG because I believe sustainable tourism is everything and love the fact that Flight Centre are passionate about it too.
6. What advice would you give to people thinking about training for the travel industry?
Make sure it is something you really want. Being a travel consultant is a really stressful job. My husband and I have an inside joke about it - he is a paramedic and has actual lives in his hands and he tells me my job seems more stressful than his! It is hard work but at the end of the day it is really rewarding – make sure you have a passion for it!
If you are looking to make your way into the travel industry like Ashlee, check out our Diploma of Travel and Tourism and travel agent courses.
---
Want to learn more about our Diploma of Travel & Tourism?