5 Exciting Global Cities To Work In
by Katie Collaro on 30-Jul-2018 18:00:00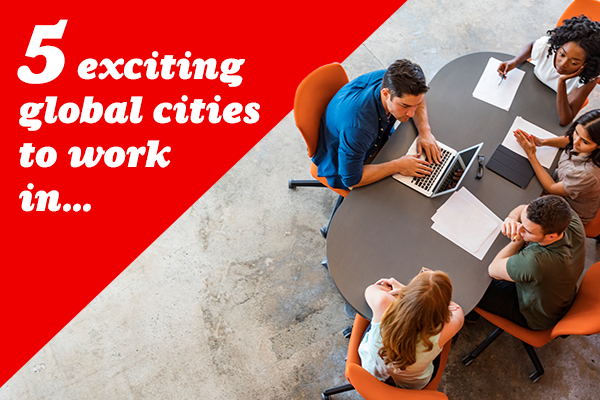 Working abroad has become somewhat of a rite of passage for young Aussies, with many of us choosing to call our favourite global destinations "home" for a couple of years (or more!), while we travel the world and build our careers.
Ready to spread your wings? Here's our pick of 5 exciting global cities to work in.
London
If a Sunday roast with Yorkshire Pudding and the buzz of a busy international city gets your motor running, then you can't look past London for its employment opportunities and unmatched cultural vibrancy. Home to speakers of over 300 different languages, London is the epitome of multiculturalism, with different neighbourhoods representing the ethnic diversity of its residents, and a calendar jam-packed with exciting cultural events and festivals. London is also the ideal base for travel across Western Europe and the United Kingdom with a well-connected train network and access to 6 international airports.
New York
New York, New York… the city that never sleeps is atop of many an expats' "wish list" and is synonymous with glamour and excitement. Large corporations and local businesses offer a diverse job market, with the travel & tourism industry being a major employer in the city. The cultural capital of the United States, New York has something for everyone from musicals to concerts to sporting events and is home to the best museums and galleries in the world… not to mention $1 hot dogs and pizza slices, if you know where to look!
Toronto
Being one of the world's most powerful economic cities paired with a low unemployment rate makes Toronto an attractive option for the global job seeker. Almost half of the population was born outside of Canada, making Toronto a cultural melting pot and food lovers dream! Also home to a thriving live music scene, dancing the night away could perhaps be the best way to keep warm during a Toronto winter, when temperatures can plummet to below -20 degrees Celsius!
Singapore
If you prefer the steamy climate of the tropics, a move closer to the equator is worth considering, with Singapore being ranked as the number one expat destination for two years in a row. Brimming with employment opportunities, Singapore boasts a very high standard of living and cleanliness, just remember to leave the Juicy Fruit behind… chewing gum in the streets here could see you lumped with a hefty fine!
Dubai
Expect to make friends from all corners of the globe in Dubai, where expats outnumber Emirati nationals by a staggering 6 to 1! A truly international city steeped in luxury, there is never a dull moment in Dubai, with more activities, events and experiences at your fingertips than you could ever imagine. Snow skiing in the desert, seeing the world from 148 stories up, Lamborghini police cars… nothing is out of the ordinary here, it's like nowhere else on Earth!
If travel is your passion, why not make it your career? Graduate with a Diploma of Travel and Tourism with the industry leaders and start creating an exciting career in travel today!