What it's like to Work, Study + Play at the Sofitel Noosa Resort
by Zoe Jeffrey on 18-May-2021 15:00:25
Skye recently enrolled in our Work, Study + Play program at the Sofitel Noosa Pacific Resort, combining study of our Diploma of Travel & Tourism, with a part-time job at the Resort.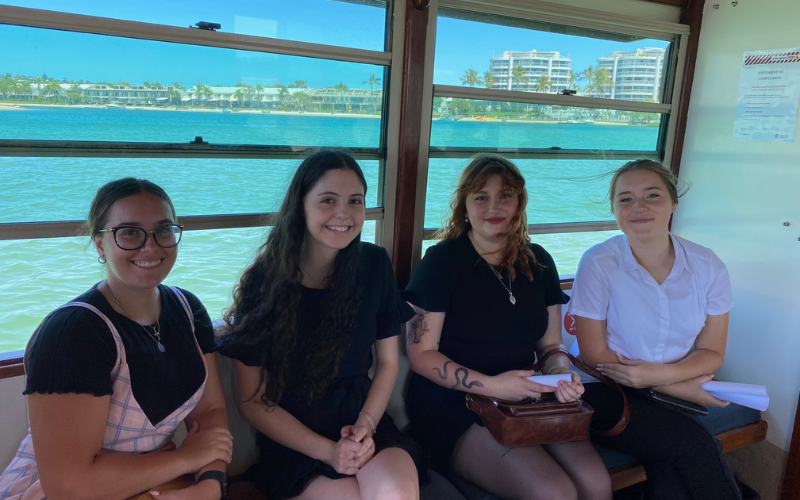 Pictured: Skye (far right) with fellow FCTA graduates on the way to the Recruitment Day at Sofitel Noosa Pacific Resort
I chose to study with Flight Centre Travel Academy (FCTA) because I thought it would be such a great opportunity for me to gain experience in this particular industry. FCTA has welcomed me so much and encouraged me to take the next step on my career pathway.

By enrolling in this course, I have been able to study and explore the travel industry and I think that's what I love the most about it. The industry is constantly changing so I have a never-ending list of things I can learn and experience.

I am currently working in Food and Beverage at the Sofitel in Noosa and I absolutely love working here. I have been given afternoon/night shifts meaning I can study and explore the Sunshine Coast through the day. Although working in a hotel isn't somewhere I saw myself working initially, I know that this experience will only help me with my future goals.

I am someone that doesn't stay in one place for too long, so for my future career goals I thought of jobs where I would constantly be adapting and traveling, and what better than a flight attendant. I know working in a hotel may be a very different industry, but everyone has to start somewhere and I'm honestly really loving my current job too!

The Sofitel has really taken my study time into consideration so by being able to dedicate time to the course I have been a lot more productive, and I have been either ahead or on time with my studying.

I definitely recommend going to a Sofitel recruitment day if you are able to. It gives you insight on where you'll be working and who you'll be working with. But it also gives you the chance to meet people from FCTA and other students as well.

I'm hoping by the time I finish my study in 18 months time, the travel industry will be flourishing, and the world will open up again. I have faith in this industry and hope we can all enjoy tourism once again because I know it has been missed.

While the current climate is challenging, honestly just take that little step, it's definitely worth it! I have learnt so much, met amazing friends and experienced so much in such a small period of time.