Recent grad Valy starts as a Travel Consultant with Flight Centre during COVID
by Zoe Jeffrey on 26-Jul-2021 16:18:35
Valy started her studies with us in July 2020, and just 12 months later, has successfully graduated her Diploma of Travel and Tourism, and used not only the skills she picked up during the course, but her connection with her facilitators to start her dream career as a Travel Consultant with Flight Centre.
Hear directly from Valy on exactly how she achieved this, and how you can too!
By the end of high school, I thought I knew the career path I wanted and decided to go after it at university. However, it was not long before I realised it wasn't exactly for me and I became eager to find something more exciting to pursue. I remembered visiting the Flight Centre Travel Expos a few years prior and thinking how inspiring they were, which led me to do a bit more research into Flight Centre. After learning more about the amazing organisation and reading past student stories just like this one, I saw myself being a part of it and knew there was no better way to get a foot in the door than by studying with the Flight Centre Travel Academy itself!
Since graduating, I have been lucky enough to land a role as a Travel Consultant with Flight Centre. Especially in a time like this, I feel very fortunate to be able to work in the travel industry and in a position I have always aspired for.
Although, I know this wouldn't have been possible if it wasn't for my amazing facilitators who continued to reach out and support me even after my studies with the Travel Academy had finished. They provided me with tips and advice for job interviews, but also words of encouragement that really helped keep me motivated.
I think the diploma content was also beneficial to me as almost everything I learnt is relevant to my current position, making the new processes and systems feel familiar and easier to put into practice, in the real world.
I truly enjoyed how each class was not only super engaging and interactive, but a lot of the content we learned applied to everyday life! In addition, each of my facilitators always went above and beyond to answer every question, query or doubt I had. I never had any trouble reaching out for help or advice as I knew they would always be there to support me too. I also loved connecting with students from around Australia with different experiences and backgrounds. It was great to hear their perspectives in class discussions and group projects.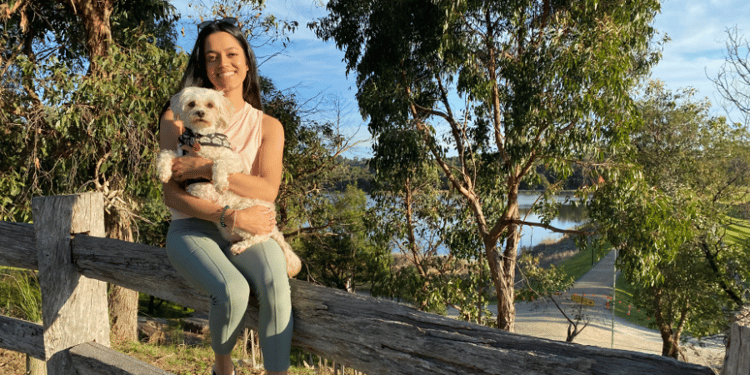 Pictured: Valy enjoying a walk with her dog
As my travel industry knowledge and skill-set grows, I would love to work my way up into a leadership role and then see where it goes from there. I can't wait to do more travelling around Australia and hopefully internationally soon too!
Overall, it was such a great experience. I've learned so much valuable information, made some awesome industry connections, and am very grateful to have been a part of it all!