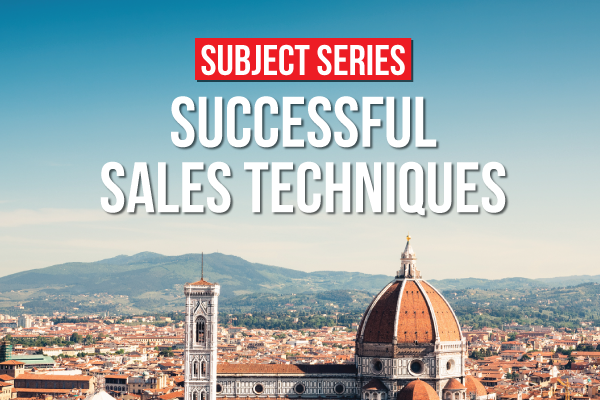 In this series, we take a closer look at some of the subjects covered in the Diploma of Travel and Tourism. We asked our students a few questions about their experience.
Subject Series #2 - Successful Sales Techniques
This subject focuses on consumer behaviour and developing the students product knowledge and sales skills within the Travel Industry. Students will be able to demonstrate competencies in developing an understanding of a 7 step sales process, as well as applying specialised skills to a range of sales scenarios.
What is the most interesting thing you have learnt from this subject?
Mia: Just how much it actually takes to be in a role as a travel sales consultant.
Claudia: How much hard work goes into selling the product and how in-depth the process really is.
Breda: The very practical, hands-on industry specific insights and experiences.
Bradley: How much I actually enjoyed this subject. To be honest, I was unsure about it but I really learnt to love it - and, it's actually made me really excited to be a travel consultant!
What did you love about this subject?
Tèa: I love that it remains fun even while we are learning.
Mia: Learning skills that not only apply within Travel Sales but also in the wider industries which require the ability to deal with customers - such as retail sales and hospitality.
Mihir: Learning how the sales process works and going through it step by step.
Claudia: How happy the facilitator is to help the students and answer any questions we have.
Kerri: The face to face learning throughout.
Bradley: Katrina (our facilitator) she made it fun, engaging and was so full of knowledge.
Aidan: A deeper understanding of the sales process. Great facilitators have made learning extremely easy too!
Why do you think this subject will benefit you when working in a Travel role?
Tèa: I have no previous sales experience so this subject will help give me an edge in the industry.
Mia: Helping to build confidence when dealing with different people!
Claudia: With all of the techniques that we learn in this class - I believe that anyone who takes this class would be successful in making sales.
Breda: Prior to this course I never thought that sales was something for me- on reflection, this now seems like a very real skill I can learn.
Aidan: The facilitators have not only conveyed the information needed, but also helped us understand before moving on. We now have the tools to apply to our own travel career.
Mitchum: The information supplied in this subject really sets a platform on how to engage with customers and even highlights how to professionally learn about someone you have just met.
Is it worth doing a course in travel?
Mia: Most definitely! You learn so much and are definitely more prepared and confident with in a Travel Sales role.
Breda: Yes - it is very much an insight into the types of roles and how you would function in that role. On completion you really are job-ready.
Bradley: Yes! This was the BEST choice I have ever made!
Aidan: Yes! There is so much more to know that you think - the depth of information learnt is extraordinary.
Do you love travel and everything that comes with it - from packing to organising the total trip? If so, why not chase your passion! Check out our Diploma of Travel & Tourism or Travel Agent Short Courses that will help you get there!