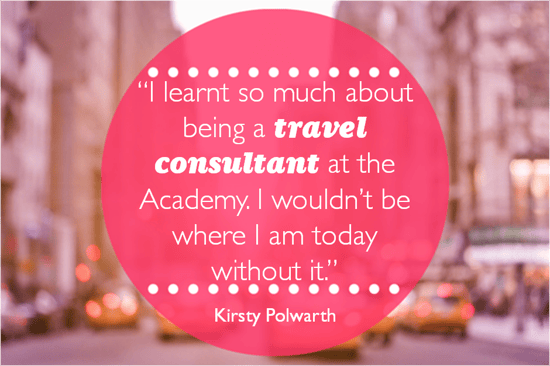 There are endless reasons to study at Flight Centre Travel Academy. You might have been knocked back from a travel job and need a little boost; you might want nationally recognised qualifications to help you get a foot in the door of the travel industry; or you might already be starting a career in travel, like our recent graduate Kirsty Polwarth.
What made you decide it was time for a change career?
I was working as a swimming teacher (again) after returning from 10 months living in England and travelling through Europe. I knew this job wasn't right for me anymore – I wanted to get out of the pool and into helping people discover new countries just like my travel agent had done for me when I went to the UK.
After looking into the Travel Academy and what it offered, I applied for a job as an Escape Travel consultant in Newcastle. I got the job and completed a one-week intensive course with the Academy. It was the best experience – I learnt so much in that week!
What were some of the highlights and challenges during your study with us?
The course was amazing. Being brand new to the industry, the course was a great platform to start on. It taught me the most important things about arranging holidays for different customers.
I learnt so much about being a travel consultant at the Academy and I wouldn't be where I am today without it.
I had an amazing trainer, Morgan, who had so much knowledge of the travel industry. In my week at the Academy I learnt about controlling a consultation, setting up the sale and destination facts.
Morgan also taught us how to use the programs to construct simple return airfares all the way through to Swiss & Lufty fares. For all you new agents out there, this will be a massive saviour when you have clients flying around the world!
Was becoming a travel agent the ultimate goal while you were studying?
This is the job that I always had my heart set on, but now that I'm in the industry I know there are so many places you can end up! It has definitely opened my eyes to a much bigger world.
I absolutely think the Travel Academy has given me the skills I needed to get into this job and to be successful in my role.
What's something about working as a travel agent that has surprised you?
The one thing that surprised me is the clients! Yes, sometimes you get the ones who want to travel to the most obscure destinations, but most are a pleasure to deal with and always come back from their holiday eager to tell you all about it (and show you thousands of photos!)
If you can get excited with your clients when they're booking, they are going to be excited to come in and tell you all about their holiday.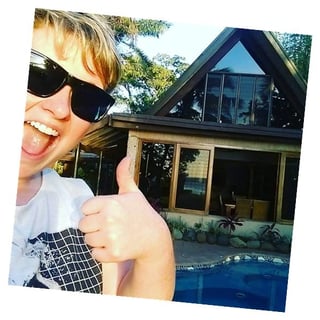 What's next for you? Do you have any specific career goals?
The next step for me is to keep building my business, booking the big holidays and making my clients happy.

I can't wait to experience more of the world as an agent and to help people experience the small joys in life.
What advice would you give to people thinking about studying travel?
There's a lot to learn! I have been working in the industry for 18 months now and feel like I have only scratched the surface.
I was lucky enough to get into an office working with agents who have been in the industry for 35 years and have learnt so much from them.
Always be prepared to learn something new every day and never forget to get excited for your clients. Even though you might have booked the same holiday a hundred times, it may be the first time they have ever done anything like this!