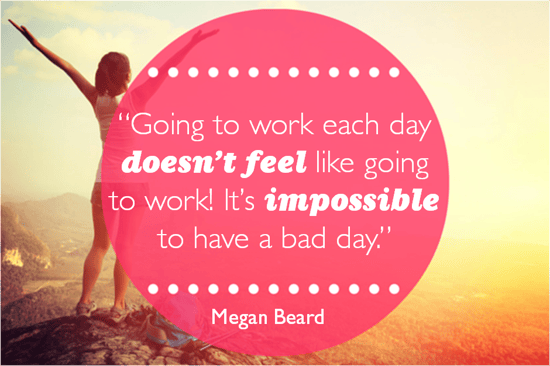 The travel industry attracts people from all walks of life, from school leavers to career changers. It's a scary decision to drop a degree you thought you were meant for but, as Travel Academy student Megan will tell you, doing what you love makes those fears disappear!
Congratulations to Megan who has just joined the Student Flights team as a travel consultant after graduating from the Travel Academy. We caught up with her to find out more about working as a travel agent and how studying at the Academy helped get her there.


What inspired you to study travel?
After getting into my dream law course at uni, I realised it wasn't for me. I decided to defer my uni degree and spend a few months working and saving to travel.
Returning from a two-month trip around Europe, I never entertained the idea of finishing my law degree and I started applying for jobs in travel. I'd travelled quite a lot after my first trip at 15 and loved it ever since!
What did you like most about studying with the Travel Academy?
I met some pretty great people at the Academy who I'm still in contact with today! I also liked the fact that I was trained on multiple programs and was taught actual travel booking systems that are used in the office.

It made my training when I started my travel consultant job a whole lot easier.


Tell us about your current role as a travel consultant
I'm a Student Flights travel consultant and I absolutely love my job. I have such an amazing team, which feels more like a little family.
Going to work each day doesn't feel like going to work! It's going to a shop each day with people you love being around and love talking with about travel every single day. It's impossible to have a bad day.
When I went in for my first day, I loved how the team spoke to customers – it was such a real conversation, like they'd known these future clients for years.




What are your career goals?
I'd love to be a Top 10 Novice for Victoria by the end of my novice year. I'd love to be heading towards an Assistant Team Leader or Team Leader position as well.
I want to qualify for Flight Centre's annual Global Ball at least once, and just further my knowledge about the world!
Now that you have experience working in a travel retail store, what was the most valuable thing you learned at the Travel Academy?
"We're selling holidays, not funerals." It's so true! Customers don't want to hear us just read off of a brochure; they want us to get excited with them about their trip and talk to them like a real person.
This is what has helped me in store. By connecting with customers I can build a sense of trust and hopefully they'll come back when they're planning their next trip.