Current student Josh starts as Travel Consultant as part of our Work + Study Program
by Zoe Jeffrey on 08-Sep-2021 10:49:29
Recently Flight Centre Travel Academy ran a specialised Work + Study Program for students wanting to become Travel Consultants, in partnership with Ignite Travel Group, a travel agency within the Flight Centre Travel Group family of brands. Meet Josh, one of the students who just completed the first part of his studies and began his full-time Travel Consultant job with Ignite.
Hear directly from Josh on how he found the program and what it's like working as a Travel Consultant at the moment.
I signed up for the Work + Study Travel Consultant Program in July because I could see that going through this program with Flight Centre Travel Academy would be my best opportunity to get a job as soon as possible as a Travel Consultant.

The part I enjoyed most about studying the Diploma of Travel and Tourism was the flexibility. Not only was the Travel Academy flexible with dates, times, locations and whether it was in person or online, the facilitators made a fantastic effort every day, which really made it an overall amazing experience.

While I found the study and course work to be intense, it gave me a great insight into how I can properly manage my time when in the actual workforce.

Through this program, I am now currently working for the Flight Centre Sales Centre, run by Ignite Travel Group, as a Travel Consultant. This part of the business is a growing area and while selling travel over the phone was not what I expected, the Travel Academy facilitators were great and got me up to a great standard before I started, so now I'm currently thriving in the sales centre environment.

I'm extremely busy at work even with all the current state lockdowns, and cannot wait for international travel to open in the near future and be able to smash targets and hit higher sales KPI's.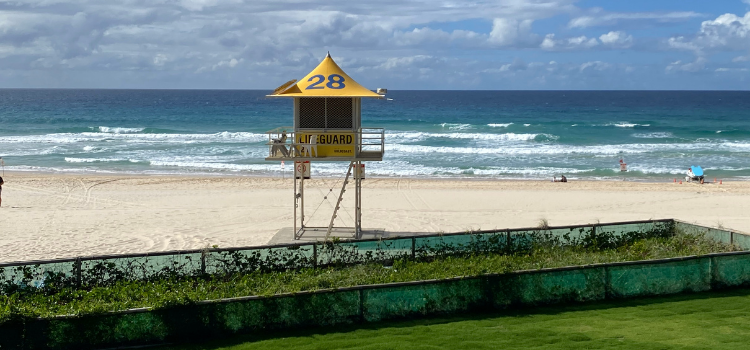 Pictured: Josh's new workplace with Ignite Travel Group is just across the road from the beautiful Kurrawa Beach on the Gold Coast.

The travel industry is in a good state considering everything that's happened, and it's only getting better from here! I'm thrilled this program and the Travel Academy gave me the opportunity to be a part of this industry rebuild, something I would not have been able to achieve on my own.

My goal for the future is to move into a team leader position. The sales centre is a fast-growing area with plenty of room for opportunities to take advantage of!

As for my tips for people out there considering the Work + Study Programs with the Travel Academy, my advice is to make sure you focus on having good time management skills, I found this to be vital to my success.

Also, the facilitators are there to help, and they are the kindest people you will meet with tons of industry experience and connections, so make sure to use them as resources to further your study and your career, just like me!