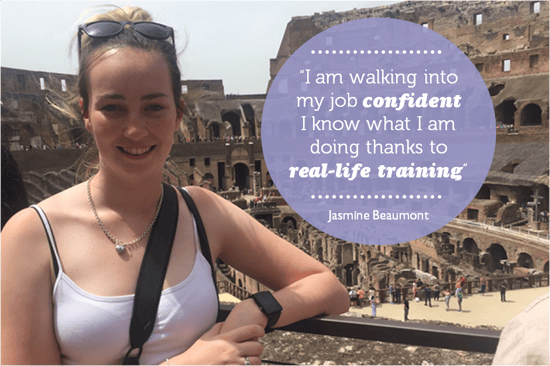 Last year Jasmine Beaumont walked into her local Flight Centre store to book an European holiday unbeknownst the experience would be a catalyst for another life-changing journey.

"I was so impressed with my travel consultant who was full of energy and loved her job so much she instantly made we want to do what she does," Jasmine, or Jazz to her friends, said.

Fast-forward to this year and the former lifeguard has belted out 'Let it Go' from the mountain tops (THE Alps) in Switzerland with the help of her new Topdeck besties, a boom box and some magically-timed snowfall.

She has also graduated with a Diploma in Travel and Business from Flight Centre Travel Academy and, less than two weeks after graduation, landed her dream job as a travel consultant at Flight Centre in Ballarat.

We caught up with Jazz before she started her exciting new career as a travel consultant.
Why was travel was the right career choice for you?
I started studying education at university in 2015, but soon found it wasn't for me. I didn't know where to go career-wise and I loved travel so I decided to book a trip to Europe for some inspiration.
The experience of booking a ticket with Flight Centre in Ballarat made me want to join the travel industry. I was so impressed with my travel consultant (Penny) who was full of energy and loved her job so much she instantly made we want to do what she does.
I wanted a job that would make me happy – and others happy too. I could see through Penny she got to do this every day and now I am so happy I get to do this too.
What did you study and why?
I wasn't even planning on studying again but I loved Flight Centre so much I enrolled without hesitation.
Basically, Penny told me about Flight Centre Travel Academy, I spoke to the course trainers and soon after started a Diploma in Tourism and Business.
It suited me because there was no strict time-frame, Study Assist Fee-Help payment option and an extra qualification plus I could do most of the course online.
This was perfect too because I wanted to stay living in Ballarat working as a lifeguard and swim teacher as I earned my qualification to work in travel.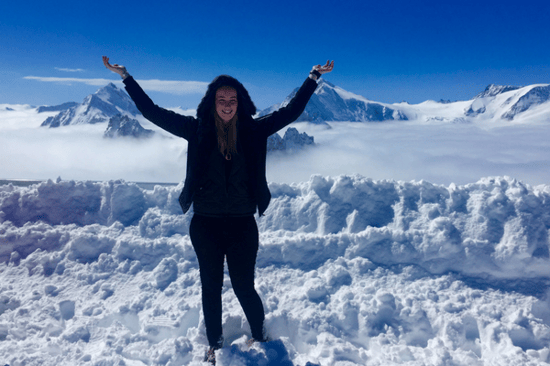 Jasmine on top of the world in the Swiss Alps!
What were some of the highlights and challenges of your course?
I am walking into my job confident I know what I am doing thanks to real-life training, from role plays in stores to learning how to use the right software.
I was worried about the budgeting and finance part, but my trainer Davina made it fun and easy to understand. I have even used these tools to budget for myself personally and this is helping me save towards my next holiday.
My other trainer Jane and business coach Pheobe were amazing too. They encouraged me to go on my Topdeck tour halfway through my course to get more travel experience. Imagine that!
Plus they all personally called to congratulate me on my new job they helped me get an interview for!
Was this job your end goal while you were studying?
Definitely! I finished my course at the end of August. A week later I was doing role-plays and online assessments at interviews for my dream job in travel. A few days later I got the job.
When I was studying teaching I was worried I would spend four years getting a degree and not get a job. At Travel Academy I was encouraged and trained to find a job from the start.
Without hesitation I would recommend this course to anyone who wants to work in travel. Flight Centre has so many stores and brands in Ballarat I didn't have to move but now have a job that supports travel!
Are you looking to build a career in the travel industry like Jasmine? Check out our Diploma of Travel & Tourism or Travel Agent Short Courses!