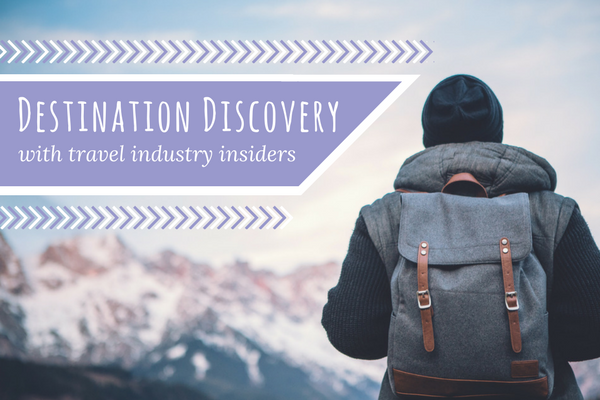 One of the best parts about working in the travel industry is famils and with this comes the opportunity to discover new destinations for yourself and your clients.
We spoke to our Flighties here at the Travel Academy to get their best "must-see", "must-eat" and "must-do" tips for the 5 most popular international destinations.
Just a warning, these aren't your typical tourist recommendations like "eat a croissant while looking at the Eiffel Tower". We're sharing the best-kept secrets that only the insiders know. How do you we know all this? Because we've been there!
Buckle up friends, let's go exploring...

Destination #1: France
Must-eat: Tartare de boeuf au couteau et pommes grenailles in Montmartre, Paris. What is the fancy, long-named dish we hear you ask? Put simply, it's raw minced beef mushed to form a raw beef patty, served with potato. Doesn't sound very appealing when written down but OMG... it's absolutely delicious (and a favourite in France)!
Must-see: The Promenade des Anglais in the southern city of Nice. Take a lovely stroll along the ocean front. Tip: to get the best view, head to the top of Parc du Chateau (the Castle of Nice). Enjoy the panoramic views of the Promenade des Anglais PLUS the new and the old town of Nice. Make sure your camera is charged - you'll be busy taking photos all day long.
Must-do: Visit the Musée Picasso (Picasso museum) in Antibes. The museum that now stands in Antibes was once home to the great Pablo Picasso . The city has kept his original works but also added a few personal photographs giving visitors a glance into his personal life in Antibes. It's an eye opening experience and one that can turn an art-disliker into an art-lover!

Destination #2: United States
Must-eat: A classic NYC bagel. But from where? A side walk food stall, like the ones you see in the movies! Their iced-coffees are the perfect liquid beverage to wash down the bagel. Your taste buds will thank you!
Must-see: Watch a pre-screening (monologue rehearsal) of a live talk show like Jimmy Fallon or Late Night. Here's the best part; there are usually scouts looking for people to attend the real live show for free! They hang around Times Square and ask passersby trivia questions. If you get it right, you get a ticket... how cool is that!
Must-do: Scout out the "Storybook Homes" in Los Angeles! These whimsical houses look like they're straight out of a Disney movie. Think pointed straw roofs, tiny windows, moats, ponds, bridges... you can live like Snow White and the Seven Dwarfs for a day.
---

---

Destination #3: Spain
Must-eat: Tapas from Txapela directly opposite Plaça de Catalunya - the living hub of Barcelona! Enjoy your authentic Spanish tapas with an iconic view. And why not finish your meal off with a jug of the house sangria? It's deeeeeeelicious.
Must-see: Cape Finisterre on the west coast of Galicia. The rock-bound peninsula was believed to be the end of the known world in Roman times! Why not take a step back in time and enjoy the view from where the Romans once thought the world ended? Take a bottle of wine and watch the sun set while you're there.
Must-do: Walk through El Laberinto de Villapresente (Spain's largest maze) in Cantabria on the north coast. The sheer size of the maze is enough to get you to visit. It takes 1-2 hours to find your way out so make sure you pack a water bottle. It's honestly totes a-maze!

Destination #4: China
Must-eat: Cong you ban mian (shallot oil noodles), fresh off the street! A lot of people have these preconceived ideas that eating street food is a big no-no but they're wrong. Street food is where you get to experience the real flavour a country has to offer. You'll be slurping your way around China with this dish!
Must-see: Embrace your inner Sherlock Holmes because you're going to have to do some serious detecting to find this one. When in Beijing, you have to find Hidden House. It's the coolest little bar with amazing cocktails to suit. The name is no understatement - this place is really well hidden but worth the adventure.
Must-do: Hire a tandem bike for you and a friend to cycle along the Xi'an City Wall. Enjoy the views of the city while riding on top on history and getting your sweat on! It'll take you just under an hour to bike all the way around the perimeter without stopping. Happy cycling!

Destination #5: Italy
Must-eat: As much as you can! Italy has one of the most delicious cuisine's known to man (hello pizza, pasta, risotto and nutella). But if we had to choose, you can't go past the traditional gelato - it really doesn't get any better than true Italian style.
Must-see: The beautiful walled city of San Gimignano that sits high on the hills of Tuscany. Surrounded by 14 Medieval towers, this little town will impress your socks off!
Must-do: Spend a day in Parma. Not only is this town architecturally stunning, it's also the home of prosciutto di parma and parmigiano reggiano a.k.a the best cured meat and cheese! Our tip? Arrive with an empty stomach and get ready to roll onto your next destination...
---
Want to learn more about our Diploma of Travel & Tourism?