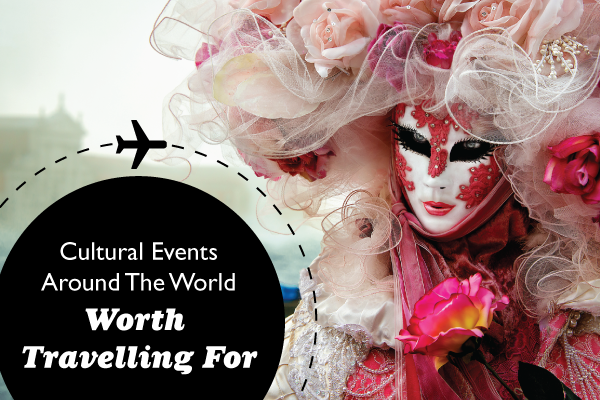 Any kind of holiday is great, however organising your holiday around an exciting cultural event - one of those once-in-a-lifetime experiences - can make it a whole lot more exciting (and brag worthy). We have listed some of the famous events around the world that will please your inner athlete, comedian, movie buff or tech nerd.
Venice Carnival
Venice Carnival is a celebration that takes place every year in, you guessed it, Venice! The Venice carnival is often described as the 're-living of 18th century Venice' and is well known for the famous Venetian masks and elaborate costumes worn throughout the celebrations. Throughout the carnival that runs for roughly 2 weeks, there are masquerade balls, fancy dinners and other amazing events that will definitely be a once in a life-time experience!
Bordeaux Wine Festival
The Bordeaux Wine Festival in France is one of the largest wine events in Europe. The festival runs annually, usually around June for 3 days and is a delicious and picturesque event! Try a range of different wines, tour a vineyard or attend the School of Wine to become a wine connoisseur! Oh, and maybe stop into Paris on your way back home.
---

---
Melbourne International Comedy Festival
This one is a little closer to home and is likely to save you a bit on airfares. However not to be discounted, the Melbourne International Comedy Festival is a world remounted event, coming in as the third-largest comedy festival in the world! The Festival takes place over 4 weeks each year and hosts over 400 shows with over 2,000 artists. So if you're looking for a laugh and eager for some amazing Melbourne dining at the same time, lock this one in!
Sundance Film Festival
This one is for the movie buffs! Located every year in Park City, Utah, Sundance Film Festival is the largest independent film festival in the United States. Sundance is a not-for-profit organisation that works to advance independent film and theatre. Famous movies that made their start at Sundance include: 500 Days of Summer, Little Miss Sunshine, Reservoir Dogs, Garden State & plenty more!
Wimbledon
If your ideal holiday includes watching some world-class sporting matches, then the Wimbledon Tennis Championships are probably right up your alley! The tournament takes place in Wimbledon, a southwest district of London – which is only roughly 11km to the centre of London. This means you can enjoy a few days sipping Pimm's while watching the pros play at the oldest tennis tournament in the world and a few days being a tourist in London town!
SXSW (South by Southwest)
If you're keen to party at one of the world's largest tech, film, interactive media and music festivals – South by Southwest (SXSW) is for you! Located in Austin, Texas, SXSW is a week-long conference that features talks on marketing, design, journalism, music, film, television, influencers, coding, programming and lot's more. Music acts have seen the likes of Drake, John Legend & Lady Gaga. This is definitely one to check out to ignite your creative side and party with like-minded people!
Love travel and want to turn your passion into a career? Check out our tourism courses that can help you make a start in the travel industry.
---
Want to know more about our Diploma of Travel & Tourism?