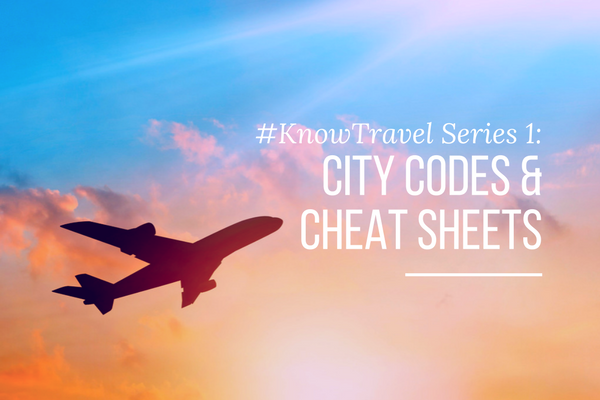 So, what's a city code then?
Airline city codes. What's with them? Do you need to know them?
Short answer is... YES!
As a travel agent you will certainly need a good understanding and knowledge of country, city and airport codes. You won't need to recite every code from every country around the world, but you should know the most popular ones and know how to look up all the others.
Why? Well, imagine getting the country code wrong when booking a client's flights and instead of sending them to Alice Springs (ASP), they end up in Alicante, Spain (ALC). We know this is not something that is likely to happen, but you get our point, right?
That's why we're here to help and point you in the right direction so you will always know how to find the right code when you need it. And don't forget, the more you work in the industry and the more flights you book, the more you'll learn.
Pretty soon you'll be reciting country codes in your sleep!
So, here's the nitty gritty information you should know. Travel Academy has also come up with a handy cheat sheet for you to download and get learning.

What is a city code?
A city code is a three letter code that identifies the individual airports around the world.
It is set by the International Air Transport Association (IATA) and commonly referred to as the IATA code and is used in aviation and logistics to identify an airport.
For example, BNE is the IATA code for Brisbane and JFK is probably one of the most recognisable codes and is for New York's John F. Kennedy International Airport.
So why do we need city codes then?
City codes help everyone in the industry to communicate easily. It is a lot easier to use an abbreviated form of the airport or city you're booking a flight to than have to say or write out a long version.
---
Did you know: you can learn all of this and more in our short courses!

---
How do they set city codes?
If you look at all the codes around the world, you'd be forgiven for thinking there is no rhyme, reason or system behind what airports, countries or cities have been given what code.
Some are the first few letters of the airport, some are letters from the city or country the airport is in, and some seem completely random. With so many airports around the world, an easy system was hard to come by, which is why there are so many variations to codes.
How do I find a country code for a particular city?
Get online. There are heaps of online search engines to help you find the codes you need. Just make sure it's a reputable one, like the official IATA code search page.
---
Did you know: you can learn all of this and more in our short courses!