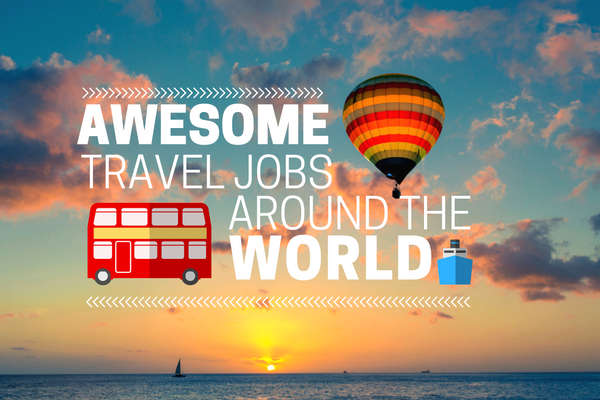 Where will your travel training lead you? It could be straight into one of the coolest (and freshest) travel jobs around. #FreshStart
When most people think about a career in the travel industry one of the first jobs to come to mind is a travel agent. And rightly so, we think being a travel agent is one of the coolest jobs on earth!
But, what you might not know is that there are plenty of other amazing opportunities to be had around the world especially after you complete your hands-on training at Flight Centre Training Academy.
Kickback and imagine yourself in one of these amazing tourism jobs (as you get paid to travel)...
Working on a Yacht or Cruise Ship
Provided you're not afflicted by terrible sea sickness, working on private yachts or cruise ships is an awesome way to travel and earn $ at the same time.
Some of the opportunities on a private yacht or cruise ship include tour manager, deckhand, stewardess, entertainer or a chef- all fulfilling and interesting roles! With food, accommodation and transport covered, the only thing left to do on your days off is to explore the exotic locations you find yourself in.
Working with an airline
Whether you become a flight attendant, ground crew or check-in staff- jetting around the world certainly has its perks. Any job with an airline is hard work, you must submit to some pretty full on training and the hours are long, but the benefits are amazing.
Constantly travelling the world, exploring far-flung cities and different cultures, massive discounts on flights and accommodation and meeting fascinating people every day are just some of the wonderful benefits of this gig.
Working at a hotel
There are some super swanky hotels around the world and some big chains have branches in major cities pretty much everywhere. A career in guest services at a hotel is a great option for someone with a passion for travel.
Not only will you meet people from around the world and help them with the holiday or business trip plans; you will also have the opportunity to travel the world with your job and learn almost all there is to know about the tourism industry.
---
#FreshStart: Where will you be this time next year?
#FreshStart 2: 12 Magical Christmas Destinations

---
Tour guide or tourism operator
Working anywhere in the world, on the most exciting attractions in the most exciting locations sounds thrilling to us.
Working as a tour guide or a tour operator means you can travel the globe, learn more about the city you are located in than you could ever have imagined and meet new people every day. You need hands-on skills, which is part of your training at Travel Academy.
Traveling fitness instructor
Obviously you will also need some fitness qualifications for this one, but many hotels and resorts offer Pilates, yoga or other fitness classes and even personal training services.
Or, you might want to join forces with backpacker hostels or gyms in the city you're located to offer your services and build up your own travelling fitness business.
Corporate tourism
Within the tourism industry there are also a range of more corporate style positions including tourism wholesaler- the person or company that supplies travel agents with tourism products; tourism marketing – the person or company responsible for attracting customers to tourism businesses; tourism executive positions which are often with large state or national tourism bodies or larger tourism companies.
And let's not forget travel writers as well - some of the perks are ah-mazing if you're good at telling a good story or two.
Register your interest in our travel and tourism training today and just think where your new travel career could take you...
---