5 Best Places for a Working Holiday
by Katie Collaro on 10-Sep-2018 04:43:00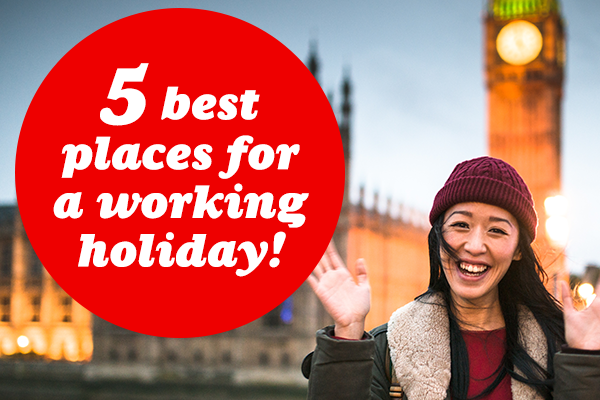 Thanks to Australia's great relationship with other countries, the choices of working holiday Visas for young Aussies are plentiful, offering a great chance to grow personally and professionally while learning from life's best teacher of all… travel. Take a look at our picks for the best working holiday destinations for young Australians.
London
Is London calling? With its vibrant multicultural bustle and distinct pub culture…not to mention having Europe on its doorstep, it's no mystery why London is hugely popular as a working holiday destination for young Australians. Spending your weekends exploring the UK or popping over to Paris or Ibiza is completely viable with the city boasting 6 international airports and a well-connected rail network. Tourism is big business in London, with the city attracting tens of millions of visitors each year, creating an abundance of hospitality and travel industry jobs suitable for working holiday makers.
Edinburgh
It may get a wee bit chilly, but for all the perks of the London working holiday experience, just on a smaller, more affordable scale, the Scottish capital of Edinburgh offers varying employment opportunities for young Aussie expats looking for a base with easy access to travels across Europe. Home to a thriving cultural scene, Edinburgh is a place rich in history and architectural grandeur, so bust out your ear muffs, sound the bagpipes, and consider this beautiful city as a destination for your UK working holiday.
Vancouver
For those seeking an active and outdoor working holiday experience, the lure of free lift passes and an expanding tourism industry make Vancouver an attractive option for young Aussies wanting to work abroad. Canadian Working Holiday Visas allow eligible Australian passport holders to work and travel in Canada for up to 24 months, further adding to the appeal as a working holiday hot spot for young Aussies. Vancouver is the gateway to 13 major ski resorts across British Columbia, many of which hold job fairs to recruit workers for the winter season, in a variety of roles spanning the hospitality and travel industries. In the summer, many ski resorts become home to outdoor playgrounds offering hiking and mountain bike trails, so if it's an active working holiday you seek, Canadian travel adventures await!
Japan
For Aussie ski enthusiasts seeking a ski run less travelled, a working holiday on the snow fields of Japan can offer amazing cultural experiences, plus great employer perks like free or subsidised accommodation and lift passes… not to mention some of the best skiing and snowboarding in the world! A lot of winter resort roles do not require Japanese language skills, making Japan a feasible alternative to the Canadian winter working holiday experience for eligible Aussies aged between 18 and 30. Did somebody say ramen??
On the road in Europe
If you like to be on the move and don't want to be tied down to one place, make Europe your office working as a tour guide! Popular tour companies like Top Deck, Contiki and Busabout are always on the lookout for charismatic, well organised, outgoing people to lead their European tours. To be considered for work as a tour guide, you must hold a UK Working Holiday visa, whereas on-site staff (cooks, bartenders) and bus drivers require EU passports.
An overseas working holiday is the ultimate way to step outside your comfort zone and discover what the world has to offer, while learning valuable lessons and making lifelong friends along the way. For young Australians, working holiday Visas are ripe for the picking, so take the leap before the full responsibilities of adulthood take hold… what are you waiting for?
Do you want to travel the world and still work at the same time? Working holidays can be a great way to see the world, live like a local and also earn an income to fund your travel. If you want to make your start in an exciting industry, check out our Diploma of Travel and Tourism!