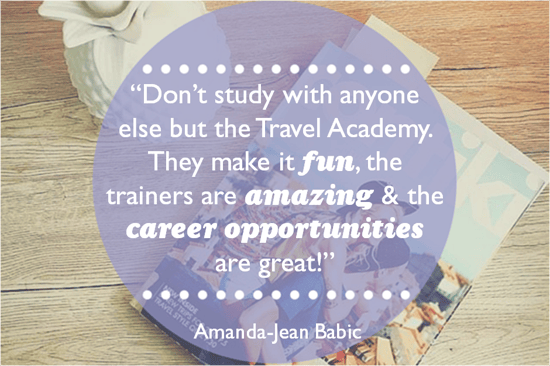 Deciding between a university degree and diploma studies? ¿Porque no los dos?

Travel Academy student Amanda-Jean Babic is a serious multi-tasker. Not only is she wrapping up her Diploma studies, she's also studying a Bachelor of Education AND plans on working as a travel consultant while she finishes her undergrad degree. No big deal.


We caught up with Amanda to chat about her motivation for studying travel and how she plans to put that International Travel Experience sponsorship to good use when she graduates!


Why did you decide to start studying travel and business?
I was in between degrees and needed a job because I wasn't sure if I wanted to go back to uni or not.

The idea of being a travel agent or a cabin crew member grabbed me – I'm really into events management and am a generally a friendly, extroverted person, and I think those careers are a good combination of the two.

I decided to study the Diploma of Business as well as I knew it would be helpful if I want to enter into another degree later.
What degree are you studying & what made you decide to do the double diploma program at Travel Academy as well?
I'm currently at Southern Cross University on the Gold Coast studying education. I started when I had just finished the business component of my diploma studies.

My goal while I'm at uni is to work as a travel agent (hopefully part-time). It will be a challenge while I'm at uni, but I like a challenge!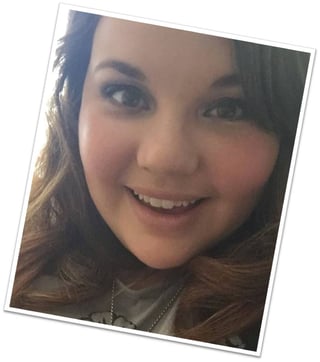 Has travel always been an important part of your life?
I have SO many amazing memories from the places I've seen! My ultimate favourite has been watching a robot show in Japan. It was crazy!

Travel really is becoming my obsession. I'm planning a huge trip to Europe over the Christmas/New Year period on my own to explore Paris, Venice, Amsterdam, London, Rome, probably Copenhagen, and wherever else I can fit in.
What were some of the highlights and challenges during your studies?
The biggest challenge I faced was keeping motivated. Working from home is a lot harder than I thought it would be!


The best thing about this course was going to the 10 and five-day class blocks. I really enjoyed meeting people, the activities were fun, the trainers were amazing, and I actually learned a lot about myself, my capabilities, and my personality.

What advice would you give to people thinking about studying travel and business?
DO IT! It's so much fun and it changes your whole perspective on travel because you know the ins and outs of planning a trip.

The classes are great and you learn so much. Don't study with anyone else but the Travel Academy. They make it fun, the trainers are amazing and the career opportunities are great!


Describe your experience with Flight Centre Travel Academy in three words: