Student Stories: Lisa Sanchez Shares Her Study Tips
by Natalie Campbell on 30-Sep-2015 06:00:00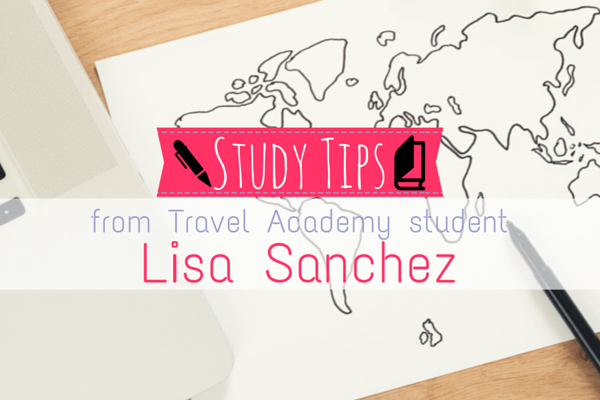 While everyone learns differently, there are always those students who stand out – they're motivated, passionate and dedicated to getting the job done!
This month we caught up with our student Lisa Sanchez who is absolutely smashing out her assessments and well on her way to earning her travel qualifications.


What are your study tips for anyone studying travel at the Academy?

The study and workshop days are invaluable! At home, I tend to get distracted by other things and find myself staring at an assessment debating how I am going to tackle it.
When I commit to the Study or Workshop Days, I block myself out for the whole day and make it count from 8am to 5pm, like a normal class day.
The earphones go in and I focus completely on whatever goal I set myself for the day. Having the business coaches Natalie and Nikita on hand to ask any questions means I'm not procrastinating either.
The workshops are brilliant; they go through what's required for the big assessments and offer you plenty of chances to ask questions and get a solid understanding of the tasks ahead.


How did you stick to your assessment goals?

I would set a date for each term and work towards finishing by that date. I found it easier to do the assessments I knew I could do easily first.
It gave a sense of achievement when I ticked them off and it didn't make the volume of assessments look so intimidating when I broke it down task by task.
I would also use the timetable given at the beginning of each term, marked the assessment as I submitted and crossed it off completely when I passed.
Every week, I would set myself a goal for how many and which assessments I was going to do. The study and workshop days are once a week, so they became invaluable here. I would also only concentrate on one task at a time – too many on the go is distracting and my focus gets lost.




What's been the highlight of your travel course so far?

The class time! I really enjoyed the whole environment. I met some lovely people throughout this course, trainers and students alike, and it has really cemented my desire to get into the travel industry.
What's been the greatest challenge?

Oddly enough, I found first term the hardest. It's all so new. Yes, the assessments get bigger as the terms progress, but I found it easier as time went on.
It helped immensely that I focused on finishing the terms quickly – you can basically get through them as quick as you'd like. It would have been much harder over a longer period of time as you lose momentum.
I have definitely grown a lot. That first mock interview in Term 1 was harrowing – now I'm quite confident with all that I have learnt and the understanding of all the different processes.
I thoroughly enjoyed the whole course, especially the classroom days at the Academy. I wish I had done it sooner!