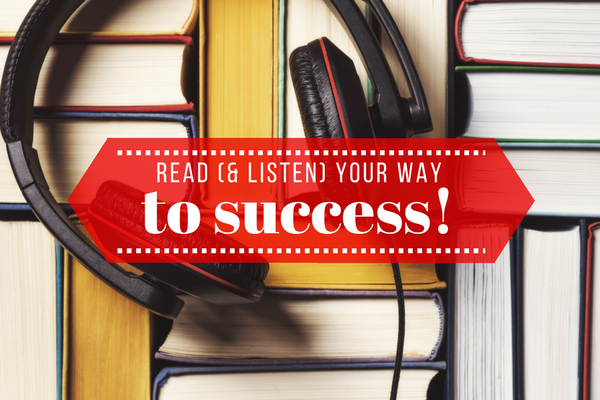 It takes a lot to be successful; persistence, patience and passion are just a few. But being successful can be kick-started with a little inspiration...
What do we mean? We're talking about books and audiobooks. With the millions of books available let's be honest, sometimes it's hard to know where to start.
Here at Flight Centre, our co-founder and CEO, Graham 'Skroo' Turner is big on the power of books and personal development, so to get you started on the path to success we've pulled together our favourite top 5 books and audiobooks. Think leadership, new beginnings and entrepreneurial anecdotes...
Top 5 Books
1. The One Thing by Gary Kelly and Jay Papasan
Number one on Wall Street, New York Times and USA Today, this book helps you focus on what you want to achieve; the 'one thing'.
The book is described as an "excellent read for not only your business but any goal you are trying to achieve in life".
2. The Magic of Thinking Big by David J. Schwartz
This book teaches you how to "think properly" by showing you how to get through tough times and stay positive. Our key takeaway? You don't need to be the smartest or most talented to be successful.
"Believe you can succeed and you will"
3. Thrive by Arianna Huffington
Redefining success, Thrive focuses on your dreams, interests and passions. Learn how to manage time, prioritise what really matters to you and work towards what you truly want to achieve.
"Draw in on your inner wisdom and intuition and learn to thrive"
4. Enchantment by Guy Kawasaki
Learn how to bring out the inner desires of others and make a lasting impact on their lives with your product or service.
"When done right, enchantment is more powerful than traditional persuasion or influence"
5. Crush It! by Gary Vaynerchuk
This book describes success based on your happiness, not on your income. Wake up in the morning and actually be excited to go to work because you'll be doing what interests you!
"You'll be able to create an online business out of your hobby"
---

---
Top 5 Audiobooks
1. The 7 Habits of Highly Effective People - Powerful Lessons in Personal Change by Stephen R. Covey
An awarding book, turned audiobook is a must if you're looking to make a mark. It creates the framework for you to build into a successful and fulfilling life.
"Full of excellent, practical advice on how to manage your day-to-day and other people"
2. Outliers; The Story of Success by Malcolm Gladwell
Learn about the 'secret' societal factors that contribute to individual success. Plus, you're bound to learn something about why some have succeeded and others haven't after listening to this audiobook.
"This is an utterly fascinating read/listen that gives a perspective on the different factors that contribute to success"
3. Yes Please by Amy Poehler
It's Amy Poehler's (the SNL and Parks and Recreation actress) first book where she offers life advice and personal anecdotes - all with a star studded cast vocal cast of Hollywood celebs (feat. Seth Meyers, Carol Burnett, Michael Schur and more)!
"Amy keeps it real and honest"
4. 21 Irrefutable Laws of Leadership by John C. Maxwell
Informative, timely and valuable. You will finish the audiobook feeling inspired with a greater understanding of these 21 laws and how you can apply them to your professional life.
"A book of great life lessons to help figure our ones strengths and weaknesses"
5. Leading Change by John P. Kotter
The world's foremost expert on business leadership distils 25 years of experience into this audiobook with a strong focus on change within a business environment
"I wish I'd read this 10 years ago! Fascinatingly accurate assessment and lessons from all aspects of change"
---
Want to learn more about our Diploma of Travel & Tourism?