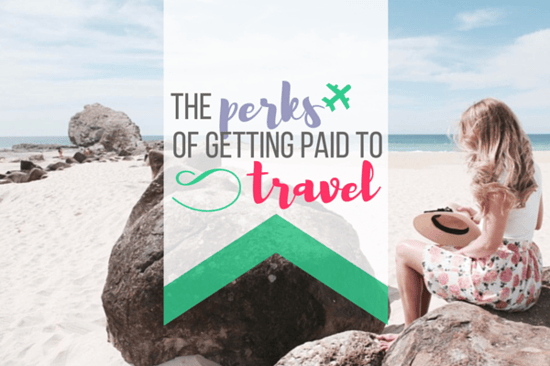 Welcome to another instalment of our guest bloggers series! This week full-time travel blogger Phoebe reveals the perks of getting paid to travel – and the realities of it too.
Your dream might be to become a travel blogger, it might be to become a travel agent, it could be to see the world working for an airline or maybe it's taking an overseas working holiday. Whatever travel career you imagine, there's really nothing quite like having the world as your office!


---
A job like this – working in travel – always felt so out of reach. The first time I thought about becoming a travel writer, I laughed and dismissed it as a 'dream job' somebody like me could never have. I never even finished uni, but with a lot of hard work and dedication, my dream job became a reality.
Before my travel blog Little Grey Box started to grow, it seemed impossible anyone would ever pay me to travel. The first time it happened, it felt like a mistake. I kept waiting for them to change their minds, to tell me they'd messed up and it wasn't supposed to me on the trip!
It's important to work really hard when you're being paid to travel. The second you take it for granted is when you start to slip and can come across as unprofessional, or not hold up your end of the deal.
It's been a real learning curve for me, balancing the work aspect and enjoying the trips I get to take.

When you're invited on trips, it isn't a holiday. You're there to enjoy yourself, sure, but you're also there to work. A typical day is usually very busy – how busy depends on how much time you have and how many activities the organisers want you to do while you're there.
The days can be crazy long. I work hard to capture photo and video content for my website, as well as keeping ideas for written pieces in mind for when I get back to my accommodation.
Like anything, you learn, adjust and adapt. Now, I know how to work smart and hard when I'm being paid to be somewhere, but also to stop and take it all in.
I have so many moments where I have to stop and pinch myself that this is actually my life and that I get to live my dreams travelling for a living!
I'm so grateful for it and I give it my all to make sure I get to keep doing what I love.
I've been invited on some pretty incredible trips and have travelled in ways I would never have been able to if I'd organised and paying for it myself.
One of my favourites was Boracay in the Philippines, a tropical island unlike anything else! We spent days island-hopping, eating tropical fruit and swimming in the most perfect blue water I've ever seen.
Another highlight was a trip I took to the Southern Great Barrier Reef. We spent a few hours snorkelling with turtles over the reef and it was the most peaceful, surreal moment.
What made it even more ridiculous was Ranger Stacey was there! It was all my childhood fantasies come true. I also have a three-week trip to New Zealand coming up soon – I'm ridiculously excited for that one.
Being paid to travel has changed my life in every way you can imagine. I have a totally different perspective on what I want out of life.
I'm so proud of my blog and incredibly thankful I get to live a life full of travel and adventure – it makes me so happy to know it's my job!
---
Phoebe Lee is a travel writer and award-winning blogger. She shares fun, practical inspiration to help others enrich their lives through travel. Her fun videos, useful travel guides and beautiful photographs are all aimed at inspiring others to live a life they love and never settle for less. Follow Phoebe's travels on Instagram, Facebook, Twitter and watch her awesome travel videos on YouTube.