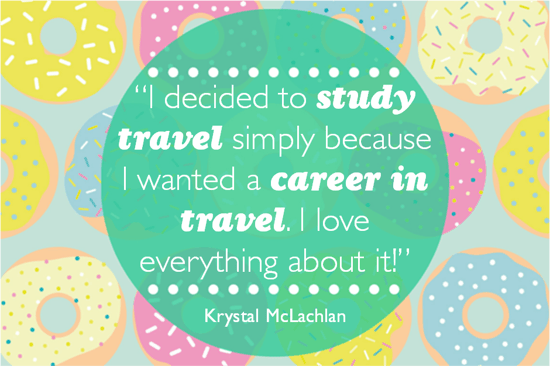 Do you remember what you were you doing in Year 10? Maybe you were working part-time, preparing for the serious stuff ahead in senior years, or generally having an awesome time before you had to start 'adulting'.
For Travel Academy student Krystal, Year 10 was the start of something big. At the halfway mark of her high school years, Krystal decided to start mapping out her future and enrolled with the Travel Academy.
"I decided to study travel simply because I wanted a career in travel. I love everything about it," says Krystal.

"Being in Year 10 when I started was challenging, but so rewarding because when I finish my HSC I can apply for travel jobs straight away!
"Travel has always been an important part of my life – sometimes you just need that escape or the opportunity to spend time with family. Just the excitement of travelling alone is amazing!"
We caught up with Krystal to find out how she balanced high school and extra-curricular studies, and what her plans are after she smashes her HSCs.
What were some of the highlights and challenges during your course?
Some highlights of the course include meeting different people and making new friends, and hearing amazing travel experiences from the trainers. I also enjoyed being called 'Mrs Bieber' by my trainer Morgan!
The best part was finishing and receiving my diploma – it made all the hard work worth it.
The most challenging part of the course was completing it while starting my HSC units at school. Sometimes it was hard to keep up with it all of it at once, but it was worth it in the end.
Now that you've finished, what's next?
Right now I'm a few months away from completing my HSC, but when I finish I will be applying for jobs with Flight Centre and take it from there.
My goal is to finish high school, get a job at Flight Centre and slowly work my way up to a management position.
Do you feel confident you'll be able to land a job in travel after you finish high school?
I definitely gained great skills and experiences from the Travel Academy. I even got briefed on how to present yourself in an interview.
We also got the chance to use the booking systems travel consultants use in stores to check flight availability, which I think will be incredibly useful.
What advice would you give to someone thinking about studying travel?
My advice is to carefully plan out your assessments and avoid procrastination as much as possible – it will catch up with you eventually!
You can still have a social life and study, but know your priorities and know that the trainers are there to help and support you through any struggles.