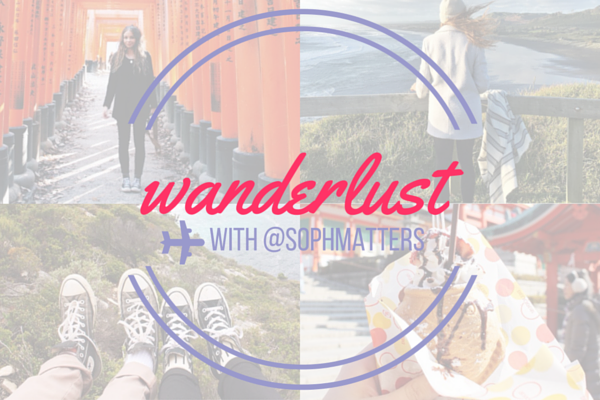 When @sophmatters popped up on our Instagram feed, we were instantly smitten. The budding photographer and travel blogger clearly has a serious case of the wanderlust bug! Sophie recently enrolled to study travel and tourism here at the Flight Centre Travel Academy and we're so excited to have her on board!

We caught up with Sophie to hear about her recent adventures and what made her decide to ditch her uni degree and pursue a career in travel.
"I've always been obsessed with travelling and was exposed to it at a young age. I went to America several times, Europe with my school, and to so many other places with my family when I was young.

I've been studying at Griffith University for two years doing a Bachelor of Communication and, to be honest, I hated it! The only thing I was passionate about was travel and planning other people's trips.

My friends and family told me I needed to pursue a career as a travel agent, so I enrolled with Flight Centre Travel Academy to get started! I've also just started a blog to document my past trips and the ones I have coming up in the next few months.

I just want to travel and explore the world forever! There's so much out there to see. If my career is centred around travel, I know I'll be happy. I also love seeing other people travelling, giving them tips and encouraging them to get out there and explore!"

Sophie on Japan: "I'd been here once before about six years ago and fell in love! My boyfriend and I wanted to book a trip together and I knew I had to return to Japan to show him how amazing and diverse the country is.

We went for three weeks and stopped in Tokyo, Osaka, Kyoto, Fukuoka, and Hiroshima. It was honestly one of the most perfect holidays and one of the best times to visit Japan as we were just in time to see the gorgeous Autumn colours!

We're going back to visit for a third time in March/April to see the sakura (cherry blossoms), so then I'll have seen Japan in three beautiful seasons!"



Sophie on Kangaroo Island: "I have family in Adelaide and hadn't visited them in a while, so we made the trip down from the Gold Coast. We stayed several nights in a cute Airbnb in Adelaide city then ventured across to Kangaroo Island for two nights.

The island was absolutely stunning. We stayed (again) in an Airbnb on the water where we curled up next to the fireplace at night. The seals and the Remarkable Rocks were a real highlight!"



Sophie on New Zealand: "My mother originally booked a trip to NZ with a friend and they pulled out at the last minute, so she asked me to come with her. How could I say no!?

I even skipped some of my uni exams to go; travelling is my highest priority! We shortened the trip to two weeks, rented a car and road-tripped around the North Island for one week, then the South for another week.

We flew in to Auckland and stopped at the Coromandel, Hobbiton, Rotorua, Lake Taupo, Napier, Wellington, Picton, Christchurch, Mount Cook, Wanaka and finally Queenstown!

It was the trip of a lifetime. Most people probably can't say that they got to explore that much of New Zealand in just two weeks!"