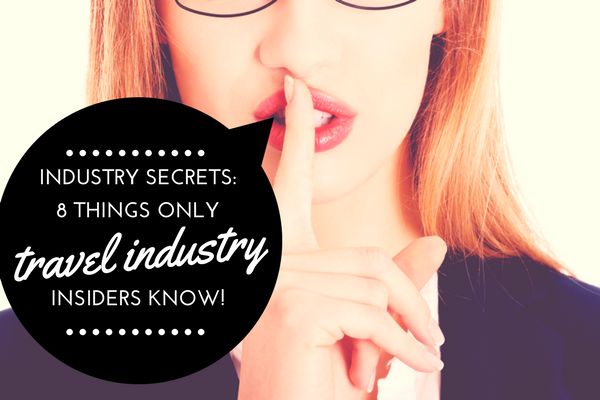 The travel industry is well-known for having many secrets and tricks for getting the best out of a holiday...
And now the secret's out! We caught up with the Travel Academy team to get the low-down on their eight best kept secrets...
Our industry secrets (we know because we book travel):

1. Hotel room prices are negotiable
In need of a last-minute hotel room? Sometimes, walking into a hotel and bargaining with the front-desk agent can really pay off. After all, the hotel makes no money on an empty room, so it's better for the hotel to let a room go at a reduced rate than to let it go unoccupied.
2. Upgrade at check-in
When checking into a hotel, ask reception if any upgrades are available. It is often cheaper to upgrade on check-in rather than when you are placing your booking.

3. Book your flights ASAP
Don't leave your flight booking to the last minute! Contrary to popular belief, airlines rarely discount flights just before departure. The best prices are usually released 6-8 months in advance.
4. Watch out for airline specials
The airlines always have specials at different times of the year for all sorts of exciting destinations. The earlier you book, the better the price will be!
---

---
5. Travel Agents can hold your plane tickets
Travel agents can hold flights for a day or two while you fix appointments or get friends or family organised.
6. Choose your preferred seat
Once your ticket has been issued, log on to the airlines website and request your preferred seat. To make sure you're getting the best seat check out SeatGuru.com to browse through the aircraft seat maps and read the seat reviews!

7. Pack a backpack
As part of the cruising experience, you will do a bunch of day trips to explore the destinations. To make sure you're getting the best out of this day experience, grab a backpack and fill it with the essentials; a water bottle, sunscreen and camera etc.
8. Pre-book your shore excursions
Pre-book popular shore tours prior to your cruise departure as they often sell out! You don't want to leave it until you're onboard then miss out on that one shore excursion you were dying to do.
---
Want to know more? Come along to one of our Open Days!