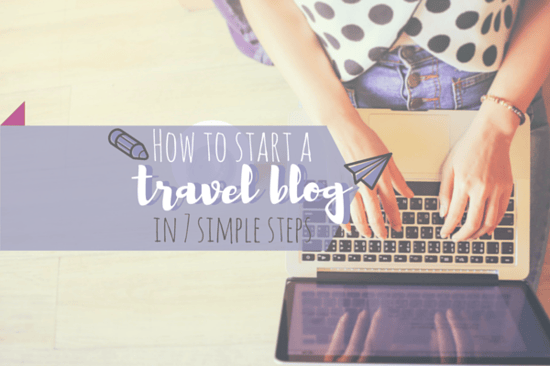 Working in the travel industry means you'll often find yourself in fantastic, far-off places.
Whether you're exploring the world from the cabin of a Boeing or being whisked away on a travel agent famil, a career in travel opens up endless opportunities to roam far and wide – and no doubt you're going to want to share the experience!
We asked travel and fashion blogger Brooke to share her expert tips on how to start a travel blog so you can keep track of your adventures (and make your friends insanely jealous!).
---
Starting a blog is one of the best things I've ever done – it's brought some of the coolest people I know into my life and is an amazing record of my adventures and experiences (the good, the bad, and the funny).
But where do you begin?
When I started my blog four years ago, all I had was my travel bucket list, a four-year-old laptop, a point-and-shoot camera and a need to start writing again.
These days, I've upgraded to an SLR camera and a MacBook Pro, my bucket list has quadrupled, I still don't understand coding, and I now have followers from around the world.
Here's a quick guide to help budding travel bloggers get started...
1. Understand why you're starting a blog
Lots of people start their travel blog to keep friends and family in the loop as they set off on new adventures; to showcase their photography; or even to meet new people. Others hope it will lead to fame, fortune and millions of fans.



Before you create a travel blog, it's good to know what you're hoping to achieve. This will help with the look and feel of your site, whether it will be a personal travel diary or a blog filled with first-hand travel tips.


2. Choose a blogging platform
If keeping in touch with family and friends is your main goal, jump onto a blogging platform like Wordpress, Blogger or Wix and you can have your blog up and running within the hour.


If you're thinking long-term – maybe with high hopes of making money – you'll want to develop your site with flexibility in mind. This will save you from moving platforms down the track and running the risk of losing content and/or readers.

From my experience, Wordpress is a great place to start because you can migrate from their low-cost, hosted platform to a self-hosted blog where you can make money through advertising, affiliate links and selling products.
3. Choose a name
You want something catchy, easy to remember and spell, and something that relates to you and what you're writing about.



Once you have a name in mind, a quick Google and domain search should show if your name is already being used and if the URL is available. You'll also want to check the name's availability on your preferred social media accounts.
4. Select a theme for how your blog will look
All of the major blogging platforms offer a variety of themes, free or at a one-off cost, to help you achieve your ideal blog look. This is especially handy if you're like me and don't know a thing about coding!
Most themes can be modified with images, colours, fonts, menus and backgrounds, and you can add widgets or plug-ins like feeds from your social media accounts, email sign up etc.
5. Start posting
Don't overthink it; start by introducing yourself, explain what your blog will be about and encourage people to sign up to receive your posts by email.



It's always good to have an 'about me' page including basic contact details for people or businesses who might want to work with you.

It can be hard to blog while you're travelling for a number of reasons, so don't beat yourself up if your posting schedule changes. Besides, you don't want to miss an amazing experience because you're too busy blogging!


6. Get the word out
As a new blogger, you're unlikely to attract much traffic. You'll have basically no street-cred with Google so don't expect to be the top ranked site if someone searches 'best travel blogs'.



Make social media your best friend and use it to tell anyone and everyone about your blog. When it comes to social media, I prefer to regularly post content on just a couple of key platforms.

Running multiple accounts (if you want to do it well) takes up time that could be better spent exploring a new city. The fewer accounts you have, the easier it will be to build and engage your audience.

The app ITTT (If This Then That) is a great way to quickly and easily share content between accounts.
7. Manage your expectations
There are more than 200 million blogs out there, so keep your expectations realistic and don't expect a free first-class flight the week after you launch!



It's easy to get caught up sharing your experiences and inspiring others, but don't spend so much time looking through the camera lens or taking notes that you forget to enjoy the moment.
---

Brooke Falvey is a writer who spends most of her days searching for the perfect holiday outfit and her ideal travel buddy. When she isn't planning her next holiday, drinking passionfruit mojitos or reminiscing about the time she met Prince Harry, she blogs about her bucket-list adventures at Blonde Ambition. You can also find her on Facebook, Instagram, Twitter, LinkedIn and Google+.