Courtnay's journey from Daydream Island and study to Flight Centre head office
by Zoe Jeffrey on 16-Apr-2021 08:35:13
I've been lucky enough to call myself a Flightie now for the last 7 years; a career that has definitely challenged me, grown me and allowed me to travel to places I never dreamt possible.
Before my Flight Centre career started, I'd been working in hospitality; started in fast food, moved to bars, and then into events. When I turned 18 I wanted a change of lifestyle, so I packed up my bags and took a chance moving up to Daydream Island for an Events Food and Beverage role. It was my first time living away from home, was in a dorm room with 4 other girls and there was a bar on the island; how could I not love my new lifestyle?!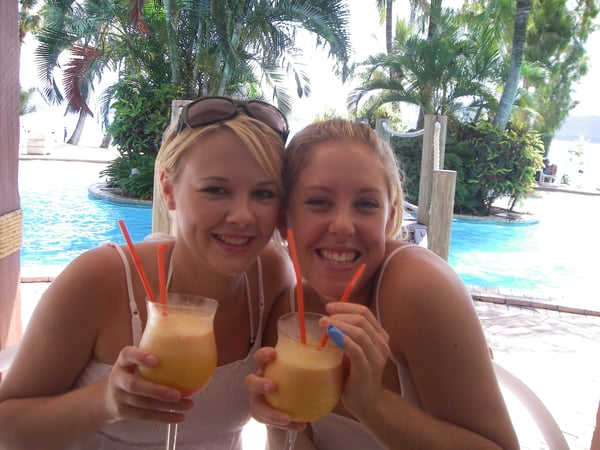 I worked long hours; setting up, serving, packing up weddings and events. September when I arrived was peak wedding season, and some weekends, we would have to look after anywhere from 2-4 weddings on the same day in different locations (and then do it all again the next day). Definitely taught me the value of hard work, dealing with stressful situations, lots of problem solving and managing customer expectations. I had the opportunity to move departments to the front office while I was there too, which was always a bit of fun (nothing like a boat full of hotel guests all wanting to check in at once right?!). The days were hot, long and tiring, but there was nothing better than getting to the bar at the end of the shift, and having the opportunity to mingle with the other staff; backpackers and people like me, trying to find who they are and what they want next!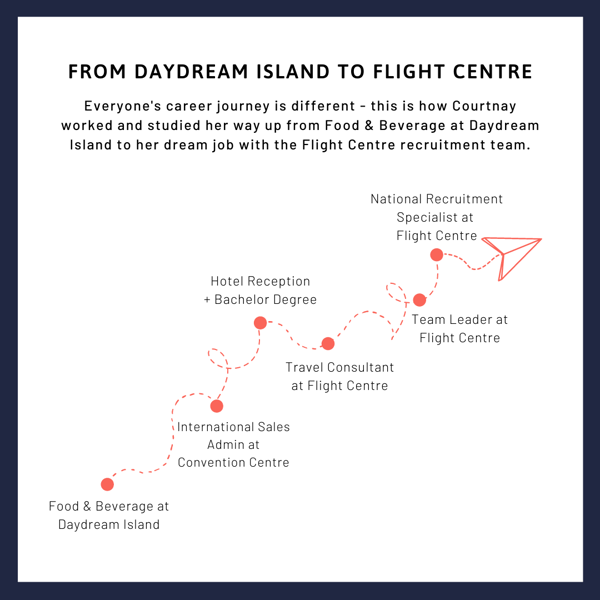 After about 9 months, I wanted to come back to Brisbane, and was able to secure an international sales admin role at the convention centre. This opened my eyes up to working with reporting, formatting proposals, making sure my attention to detail was key, and meeting tight deadlines (and sometimes these were extremely tight!).

After 3 years, I decided I wanted to study full time again, and this role just wouldn't work for what I needed. So while I was completing my Bachelor Degree, I worked in a Brisbane hotel on the front desk, where I was able to still earn money, work on my customer service skills and have a fair amount of responsibility put upon me. Once my degree was finished; I wasn't able to find a role that I really wanted; so I went for my second passion; Travel!

I was lucky enough to apply with Flight Centre and get accepted into a Flight Centre Business Travel store in the Brisbane CBD. When I look back now, I believe it was due to my previous work experience that really set me up, and how I showcased these skills best through the interview questions. My confidence and personality definitely played a massive part too. Becoming a Travel Consultant; I didn't realise how much it would change me, my life and the journey I was about to take.

I was a consultant for 6 months before taking on an Assistant Team Leader position. From there, I worked hard and pushed to achieve my results, it was definitely challenging! I took on a Team Leader role after 2 years with the company and was the leader of a megastore for another 2 years. In this role, I loved the opportunity to come to recruitment assessment days and see the process; which is where my love for recruitment came from. I always reached out to the team, and did what I could to help my store and new consultants stay too. When a recruitment role came up, I was unsuccessful in getting it, as I just didn't have the experience. I was absolutely gutted, this was my dream job. I took on the feedback provided, even left Flight Centre for a short period to work in a recruitment agency before another position arose. When it did, only 3 months after leaving, I applied and was successful, primarily because I now had those skills that were needed. By taking on that feedback, it really set me up for the role, and when I jumped in, it made me more confident, able to understand the role better and start hiring from the first week.

Flight Centre has taught me a lot, but the one thing that resonates with me the most is; every day is my choice. I chose to speak to that client that walked in the door first, I chose to answer that phone first and I chose how I wanted my day to go, simply by having a positive attitude and being resilient! What choice will you make today?