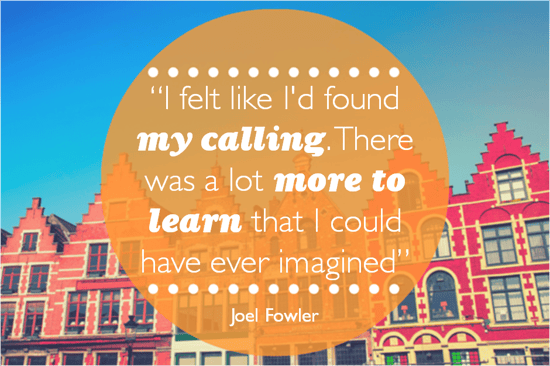 "I'd worked in racing and wagering for many years in a secure job, but decided to take a job as a Site Manager in a little mining village in the Northern Territory because I was bored and needed a change.
I didn't expect to stay too long – flying in and out of the Territory was tough and it was a bit of a restrictive lifestyle in a mining village, plus it was tough being away from my family and friends for long stints.




I'd always had vague ambitions about working in travel – I was going to be a travel writer or photographer – but it dawned on me that perhaps the best was to get a job in the travel industry was to actually work for a travel company.


I spoke to a recruitment agency and they advised me to try Flight Centre, which I have to say was a little easier said than done!
The pressure was on: I was a 45-year-old with no job, two mortgages and a dwindling savings account, and I couldn't get an entry-level position in the industry without any sales experience.
After a couple of unsuccessful job applications, I found myself at the Flight Centre Travel Academy.

The training at the Academy was exciting and fun – I felt like I'd found my calling. There was a lot more to learn that I could have ever imagined and I'm still amazed by how much information I needed to take in.
The Academy was a great grounding for me. After completing my travel course, I applied again and was successfully placed at Flight Centre Castle Hill.
I found the Academy training helped me immensely once I started my role as a travel consultant.

The first few weeks in store were a bit intimidating. Castle Hill is an incredibly busy area and I felt like I had no idea what I was doing, but with each booking my knowledge and confidence grows and I'm really starting to enjoy it!


It's a lot harder than I ever imagined but I'd encourage anyone who has an interest in travel to give it a go!
You'll be surrounded by a great group of hard-working and like-minded people, which makes all of the difference to your work and life in general."