A few of our favourite things to do at Hamilton Island!
by Travel Academy on 04-Feb-2022 13:06:18
Our latest program combines your study with employment opportunities and exclusive benefits all in the breath-taking location of The Whitsunday Islands. Talk about the dream work-life balance!
We have teamed up with the amazing people at Hamilton Island to curate the ultimate working experience in one of Australia's dream destinations. Located right at the heart of The Whitsundays, Hamilton Island is an all encompassing luxury destination experience.
If you haven't heard of Hamilton Island before (we highly doubt it), here is our list of the best activities and experiences to get stuck into on your adventure!
These are a few of my favourite things...at Hamilton Island (and close by)!
1. Whitehaven Beach
Whitehaven Beach is one of the absolute gems of the Whitsunday Islands. Bonus - it's situated right by the Great Barrier Reef and is an easy trip from Hamilton Island. Not only has this beach been voted the world's top eco-friendly beach and Queensland's cleanest beach, it's stunning white sand truly gives you that picturesque holiday destination (check-out #whitehaven on Instagram, you won't regret it!).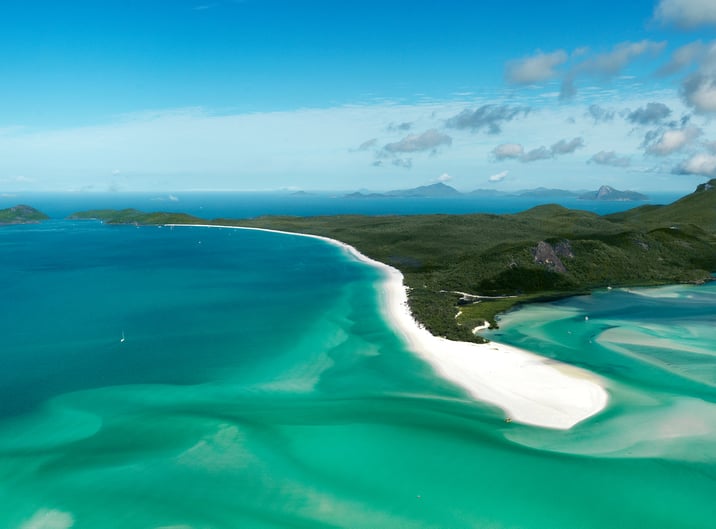 Whitehaven Beach, The Whitsunday Islands
2. Spas, spas, and more spas! Treat yo self.
If beauty and relaxation are your thing, you've come to the right place. Get a massage in between shifts, or a post-work facial at one of Hamilton's luxurious spa experiences. There are three spas available on the island, Island Hair and Beauty, Spa wumurdaylin and Spa qualia.
A quick tip, if you would like to indulge in a treatment at any of these locations, be sure to pre-book.
These spas are predominantly for guests, but in your down time you can definitely check them out and treat yourself to some relaxation.
3. Check out Catseye Beach - the place to be for Water Sports!
While you're at Hamilton Island, why not embrace all that the island has to offer! With access to catamarans, kayaks, windsurfers and paddleboards, hit up the beautiful Catseye Beach with your playmates, located right in the heart of Hamilton Island.
Hamilton Island Beach Sports is open from 8:30am to 5:00pm daily, be sure to check them out.
Catseye is also the perfect spot to sit back and relax with a good book or a cocktail. The picturesque sandy beach is home to many creatures and reefs, so why not take a guided snorkelling tour and explore the natural wonders The Whitsundays have to offer.
4. Let's not forget, check out the Great Barrier Reef!
We can't talk about The Whitsundays without mentioning the remarkable Great Barrier Reef. As one of the Seven Natural Wonders of The World, this beauty is home to over 1500 species of fish, 411 types of hard coral and 134 different types of sharks and rays - talk about the jungle of the sea!
There are a bunch of amazing tours and day trips available once you're in The Whitsundays to truly explore all The Great Barrier Reef has to offer.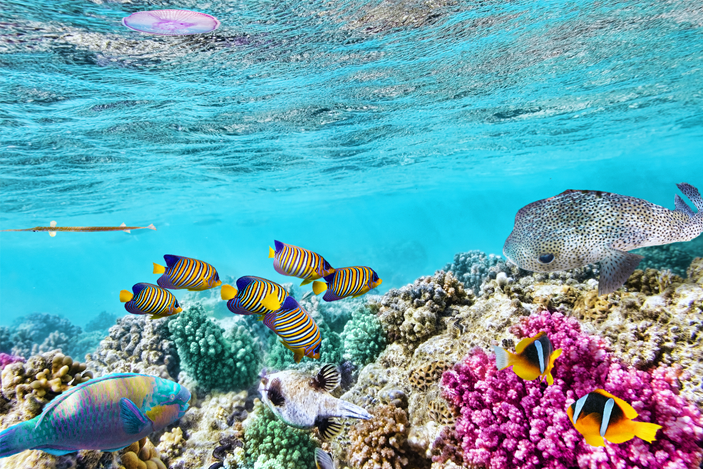 The Great Barrier Reef
5. Get set to Sail
The Whitsundays are home to some of the best sailing Queensland has to offer. Whether you're a beginner or a seasoned sailor, a trip to The Whitsunday's isn't complete without setting sail across the azure waters. You an your playmates can hire a skippered yacht charter, book lessons with island experts or join in on a day tour - the options are endless!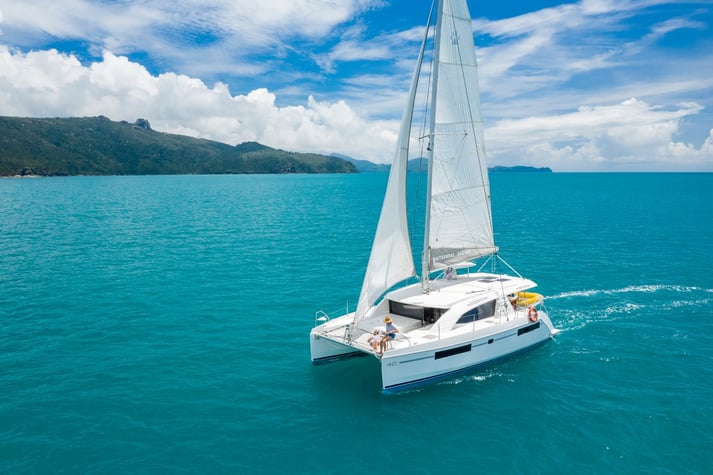 Sailing, Hamilton Island
For absolutely all the info you could need on activities, check out the Hamilton Island What's On Guide.
Check out our Work, Study + Play Whitsundays Guide for more!
Our Work, Study + Play Whitsundays program is jam-packed with all the good stuff. Discover our latest program and what you can achieve today!