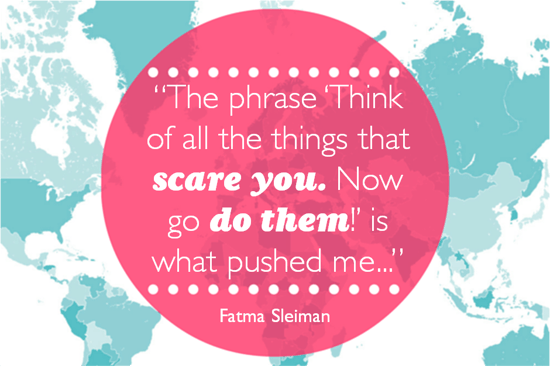 There are no limits to where a travel career can take you. Some dream of popping on the headset and helping people plan their ultimate holidays, while others (like Travel Academy graduate Fatma Sleiman) see themselves travelling for a higher purpose: to help others.

We caught up with Fatma to find out why she decided to study travel and where she plans on jetting off after graduation.


1. Why did you decide to study travel?
I'd just left high school and didn't know what I wanted to do, but I knew one thing: my passion for helping people and wanting to travel.

I've wanted to do both of these things since I was a little kid; I would collect all the places and things I wanted to do overseas and stick them on my wall.

So, after researching different education pathways, I came across Flight Centre Travel Academy and knew I had to do it!


2. What were some of the highlights and challenges during your course?
There were so many highlights throughout the course! On the first day I was pretty nervous, but as soon as I came in everyone was so nice and the trainers really make you feel welcome.

I was really excited to see all the travel magazines and catalogues everywhere too! Every day was a new and exciting learning experience.
3. Now that you've qualified for our graduate travel opportunity, where are you planning on going?
I've chosen Ecuador in South America. I will be travelling to Quito to a small village where I'll be working with children in the village school, teaching English and basic sanitation, renovating and revitalising the facilities with fresh coats of paint, installing new play equipment and helping with the construction of bathrooms and water catchments for the village homes.


The travel opportunity really pushed me to start travelling as it helped cover my flights as well as the insurance, which was really expensive for South America.


I chose voluntourism in South America because I've always been fascinated by the Amazon. As part of this volunteering trip, we will actually be camping in the Amazon! It's the best of both worlds: helping people and seeing a place I've been dreaming of going since I was a little hippy kid.


It's the lungs of the earth... the incredible Indigenous peoples... the fauna and flora... it will be phenomenal.


The phrase "Think of all the things that scare you. Now go do them!" is what pushed me to go travelling on my own. I know it will be a BIG learning experience.