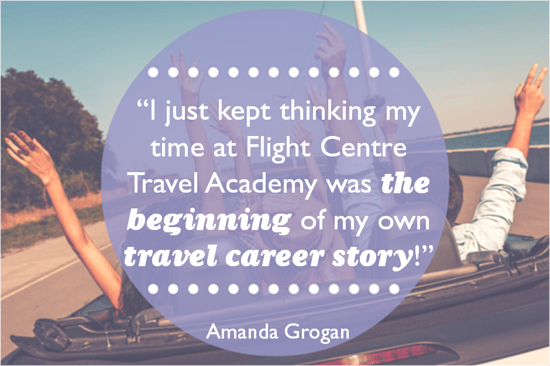 For some, a career in travel is an obvious choice. Given Travel Academy graduate Amanda was already spending her days researching, planning and dreaming about all things travel, turning that passion into a paycheck was a no-brainer!
Since studying travel in Brisbane with us, Amanda has quickly climbed the ranks to become an Assistant Team Leader at a Gold Coast Flight Centre store AND has been nominated for a National Travel Industry Award!
We caught up with Amanda to chat about the journey that lead her to where she is today.
What made you decide to study a Certificate II in Tourism?
I was already spending several hours a week immersed in travel – reading blogs, articles, books; planning my own trips; wanderlusting over Instagram and Pinterest travel photos!
I worked at an independent book shop and spent a lot of time recommending travel to my customers, so I wanted to take that passion further and turn it into a career.
Since studying a Certificate II in Tourism at the Travel Academy I've had the opportunity to complete both my Certificate III in Tourism and Certificate IV with Flight Centre and am about to start my Diploma in Tourism.
Do you think the Travel Academy gave you the skills and experience you needed to land your role as a travel consultant?
Without a doubt! The Travel Academy not only gave me a base understanding of systems, destinations and customer experience, but most importantly helped reveal my learning style. As you are learning literally every day on the job, this has been such an asset.
I started as a Flight Centre Travel Consultant but was promoted to Assistant Team Leader after six months. I have to say a big thanks to the Travel Academy who gave me the knowledge and foundation skills that helped me get there so quickly!
What's one thing about working in travel that has surprised you?
The connections I've made. Travel is so beautiful and you really become a part of people's lives when you book their holidays. You hear about their honeymoons, family trips, bucket-list trips, first-time trips – it's incredible!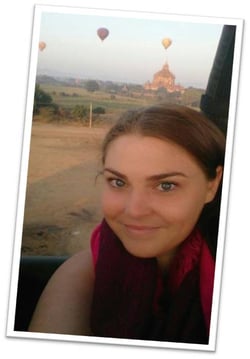 How did you get nominated for an AFTA National Travel Industry Award?
I'm not sure exactly who nominated me but it was one of the wholesaler or travel reps I work with. These guys are my lifesavers! They teach you about their product and company, and help you sell it more effectively.
I always remember to thank my reps and wholesale teams and form good relationships – it's a really fun part of the job! They also watch me look after my customers, ensuring I pick the best trip for them and look after every little detail! I'm always looking for special touches for my customers like personalised letters or advice.
What advice would you give to people thinking about starting a travel course?
Do it! I'm lucky enough to sell the most amazing product in the world – travel! It makes me happy every day and allows me to make others happy too; what can be better than that?
The career paths are endless, but I think it's really important to have a solid foundation first and get an insider's look at the industry. I'm always recommending Travel Academy to any friends or customers who want to work in travel.
What were some of the highlights and challenges during your course?
A major highlight was hearing the amazing career stories from our trainer, as well as the visiting travel reps and leaders from within the company. It was so inspiring; I just kept thinking my time at Flight Centre Travel Academy was the beginning of my own story travel career story!
It was a big challenge to find time to complete the course as I was working fulltime, but the Academy was really accommodating. They offered me lots of support and different start dates to work around my schedule.
What's next for you? Do you have any specific career goals?
Short term my career goal is to become a Team Leader. I enjoy building and supporting a team, helping others learn and grown.
Long term I would like to work for an adventure travel company like Intrepid, selling their products and eventually helping plan their itineraries!