Living and working in Canada's ski fields
by Ashley on 22-Aug-2023 13:53:55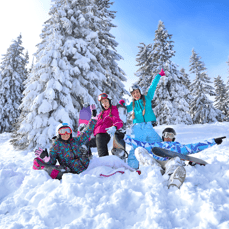 Ashley, one of our facilitators, moved from her home in Winnipeg to experience living and working in Banff, Canada. We interviewed Ashley about her time working in the Canadian Rockies through both summer and winter, the differences between living in Australia and Canada, and what she takes with her from this experience.
Join our Work, Study + Live Abroad program and learn more directly from Ashley who facilitates this program.
Tell us a bit about your living and working away from home experience?
'I'm originally from Winnipeg Canada and when I was starting out in my career in Travel and Tourism, I decided to move away from home at 21 and head out to the Canadian Rockies to a lovely little mountain paradise called Banff.'
What sort of work did you do and how did you enjoy the whole experience?
'I was lucky enough to secure a job as a receptionist at a little resort out of town and worked there for the summer season before transitioning into a role as a server at a restaurant in town for the winter. Living in Banff was amazing, waking up to the gorgeous mountains and scenery everyday was a pinch me moment. There is so much to do around town and in the local area, so each day there was a different hike, scenic view, or pub to check out. There was a lot of work involved too though, most days included split shifts so I would be opening up the restaurant in the morning for the lunch rush and then I'd get a break before coming back in for the dinner shift. You get days off; however, these aren't always together or on weekends as that is when you have the most tourists in town, so it is all hands-on deck.'

What differences have you found between the lifestyle in Canada and Australia?
'Australia and Canada have a similar culture, however there are some keys things to know, especially when it comes to working in the tourism industry. Customer Service is something that they pride themselves on, and this doesn't only extend to hospitality it is the same when working on the lifts or in the ski resorts. It might sound silly but pleasantries such as hello, please, thank you and have a nice day go a long way up North. You have to be aware that a lot of the time you might be working for tips, so the level of customer service needs to be above and beyond.'
What did you learn during your time in Banff that you bring with you in life?
'The experience of working in Canada is definitely life changing, you will grow so much as an individual and you'll get to experience and see some amazing places/things and meet some awesome people. I've made friends from 2009 who I am still close with today and all of us share a unique bond and experience together about being in that place at the same time.'
What would you say to others considering living abroad?
'My biggest thing is just do it, get out there, have fun, put your best foot forward and soak in all the opportunities and experiences you get!'
If you have always wanted to live abroad why not combine study and living and working overseas? Find out more about our Work, Study + Live Abroad program now!