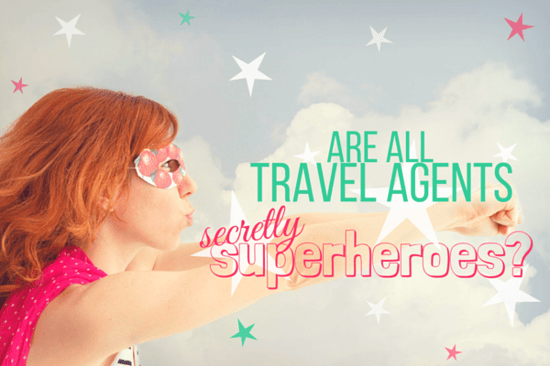 Hey wait a minute, hear us out. Laugh if you will but we think we're really onto something here – could all travel agents secretly be superheroes?
Look at the facts below and we dare you not to wonder if the person walking down the street in a Flight Centre uniform is sporting a cape underneath...
Travel agents can be in different places at once
They're talking to you via email; they're on the phone; they've got a customer right in front of them. A good travel consultant is a master of multi-tasking and can jump from one holiday query to the next at the speed of light – but when their attention is on you, they make you feel like you're the only customer in the world!


Travel agents fly all around the world
Who said flying had to be a solo endeavour to be classed as a superpower? Working as a travel consultant means you're not only privy to the best industry deals, but you also get the opportunity to go on 'famils' to suss out the product you're selling (i.e. the airline, hotel, cruise or tours).
Travel agents can read minds
That place with the happy pigs that swim in the ocean? You know where I'm talking about. A good travel consultant knows you mean the Bahamas (obvs).

They know the hotel you really want, and you didn't even know it existed! And when a client says "I want to go somewhere in Asia with good food, that's not too expensive and doesn't have any stopovers", a super agent knows just the place faster than you can say 'in-flight movie'.
Travel agents have X-ray vision
Think that deal looks too good to be true? It probably is. Read the fine print and suddenly those two stopovers, 3-star hotel and ungodly flight times don't seem so sweet.

The best travel agents can see through these sugar-coated deals and will direct you back to safety, aka a deal that's really a deal!


Travel agents take responsibility for the safety of their
citizens

customers

Whenever the "do people still use travel agents?" argument pops up, there's one big reason in the yes column: emergencies.

Whatever situation befalls you, your superhero travel consultant is your safety net. They're always there to get you out of a jam (and they spruik travel insurance for a reason!).

To all the super travel consultants out there, we salute you!