A Day in the Life of a Bonza Cabin Supervisor
by Justiss on 12-Jul-2023 10:20:34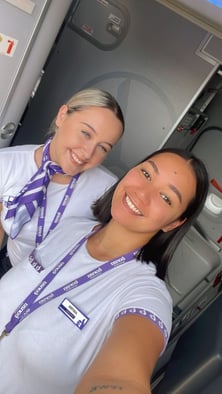 Welcome aboard! Join me, Justiss, as I take you through a day in my life in the skies as a Bonza cabin supervisor. Today, we are operating a three-sector day from the Sunshine Coast to Mackay then back to the Sunshine Coast.

The day starts when my alarm goes off. As much as I would like to say I do not hit snooze, it does take me a second to fully wake up and start the day. Luckily for me, because I've already done a bit of prep the night before, despite the early morning start, getting ready is easier by having less tasks to do after I wake up. Finishing the day just after 10 am is also a massive bonus and motivator for the day ahead.

After I wake myself up by having a refreshing shower and brushing my teeth, I tie my hair back and put on a little bit of makeup before putting on my crew uniform. Today, I'm wearing the Bonza t-shirt and blazer, pants and sneaker combo. It's great having the option to be fresh faced or putting some makeup on. Due to the early morning start, I decided to keep it simple and applied some concealer and lip balm.

Arriving at the airport, I meet my fellow crew members for our pre-flight briefing. It's a time to connect, receive important updates and align our objectives for the upcoming flight and of course, getting our first coffee of the day!

Once onboard the aircraft, I make sure the cabin is clean and looks immaculate for the customers coming onboard. Because these sectors are quick, I like to make sure our service is already set up so we're ready to go before we take off.

As we take to the skies, my focus is on ensuring customers have the most comfortable experience during the flight. A major part of the onboard experience is the on-demand inflight menu service. When customers are on board a Bonza flight, they can order directly from their smartphone and receive their food and beverage by a cabin crew member straight to their seat.

Our job as cabin crew is to make sure that we're all working as a team, so customers receive their food and beverage orders in a timely manner. For longer flights, customers get more time in the air to decide and order so there is a consistent flow of orders during the service. For shorter flights, there is less time to get orders out to customers, so we have to make sure each order is completed as quickly as possible.

As we prepare for landing, I ensure a seamless disembarkation process. When customers leave the aircraft, I exchange genuine smiles and well-wishes. It feels great having made a personal connection to our customers onboard and feeling like we've made a positive impact on their journey, making every moment of hard work rewarding.

Back on the ground, I join my fellow crew members for a debrief. We share our insights, learn from one another, and grow as a team. It's a moment of reflection and growth, preparing us for the next adventure that awaits us in the skies.

The best part of being a Bonza cabin crew member is how rewarding the role is. For our customers, it's not just about getting from A to B, these are real people with real stories. It's amazing to have genuine connections with the people we meet on board every day and be supported by a dedicated team who are passionate about what they do.
If you want to start your career in airlines and set yourself up for future success while learning from industry experts, check out our
Work, Study + Fly program
today.