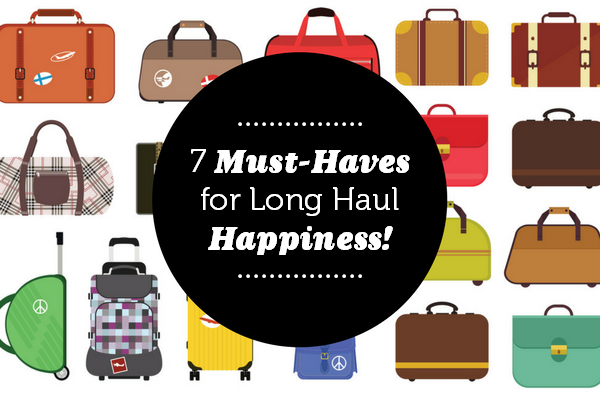 Let's all be honest for a second — no one actually likes travelling in Economy! That's why we've come up with the 7 must-haves that'll make Economy feel like First Class...
1. A good travel pillow

Have you ever come off a flight with a sore, stiff neck? We thought so. That's why a good travel pillow is an absolute must for a long-haul flight. A good travel pillow can mean the difference between sleeping well or not sleeping at all.
---

---

2. An inflatable foot rest
Don't laugh at us just yet. Yes, you may look like a looney blowing up your foot rest but within minutes, the rest of the economy class will be eyeing off your First-Class foot comfort.
3. An empty water bottle

Fill it up once you're past security and you'll avoid imminent dehydration. You can also ask the cabin crew to fill your bottle once it's empty during flight. Plus, by staying hydrated you will LOOK like you've just come from First Class. Your face will be clearer, your eyes will be whiter. #winning
4. A sleeping mask

Sleeping masks are great for blocking out ambient light and letting you have a good rest. Don't you feel weird when you're trying to sleep and everyone is watching you? The sleeping mask totally eliminates this weird feeling, trust us!
5. Bring your own blanket

Planes are cold and the last thing you want is to be caught shivering during your long haul flight. The solution? Pack your own blanket! Sure, some airlines do offer blankets but who would want to risk it? We wouldn't....
6. Pack socks
Whoever invented these jackets for your toes was an absolute genius! Like cushiony clouds on your feet, you can comfortably walk around like you're in First Class. You'll be thanking us later.
7. Good quality headphones (and ear plugs)
A crying baby, chatty neighbour or loud snorer can easily be drowned out with some good quality headphones or ear plugs. Some airlines provide headphones free-of-charge but they're never as good as your own.
So there we have it! Next time you're booked in for a long-haul flight, don't forget these 7 essentials taking your comfort to First Class.
---
Want to know more? Come along to one of our Open Days!